Knots for
11th January 1952
Page 41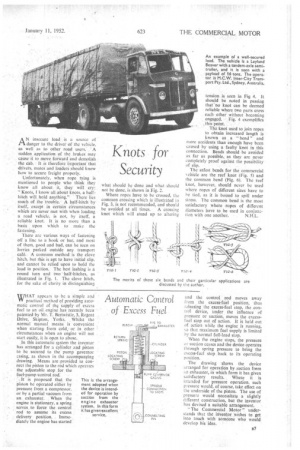 Page 41, 11th January 1952 —
Knots for
Close
Security
AN insecure load . is a source of danger to the driver of the vehicle, as well as to other road users... ' A sudden application of the brakes' may cause it to move forward-and demolish the cab. . It is therefore important that drivers, mates and loaderS.should know how to secure freight properly.
Unfortunately, when rope tying is mentioned to people who think they know all about it, they will cry: "Knots, I know all about knots, a half
hitch will hold anything." There lies much of the trouble. A half-hitch by itself, except in certain circumstances which are never met with when loading a road vehicle, is not, by itself, a reliable knot. It is no more than a basis upon which to Make the fastening.
There arc various ways of fastening off a line to a hook or bar, and most of them, good and bad, can be Seen on lorries parked outside any transport café.. A common method is the clove hitch, but this is apt to have initial slip, and cannot be relied upon to hold the load in position. The best lashing is a round turn and two half-hitches, as illustrated in Fig. I. The clove hitch, for the sake of clarity in distinguishing
what should be done and what. should not be done, is shown in Fig. 2.
Where ropes have to be crossed, the common crossing which is illustrated in Fig. 3, is not recommended, and should be avoided at all times. A crossing knot which will stand up to altering
tension is seen in Fig 4. It should be noted in passing that'no knot can be deemed reliable where two parts cross each other without becoming
engaged. Fig. 4 exemplifies , this point.
The, knot used to join ropes to obtain increased length is known as a " bend " and more accidents than enough have been caused by using a faulty knot in this connection. Bends should be avoided as far as possible,. as they are never completely proof against the possibility of slip.
The safest bends for the commercial vehicle are the reef knot (Fig. 5) and he common bend (Fig. 6). The reef knot, however, should never be used where ropesof different sizes have to he tied, as it is bound to spill under stress. The common bend is the most satisfactory where Topes of different diameters have to be used in conjunction with one another.