Yorkshire Traction Granted New Fares: Birmingham Coming Back?
11th January 1952
Page 32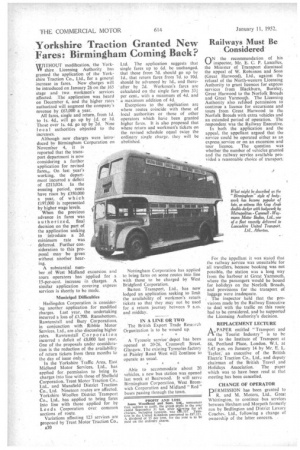 Page 32, 11th January 1952 —
Yorkshire Traction Granted New Fares: Birmingham Coming Back?
Close
WITHOUT modification, the YorkVV shire Licensing Authority has granted the application of the Yorkshire Traction Co., Ltd., for a general increase in fares. New charges will be introduced on January 26 on the 165 stage and two workmen's services affected. The application was heard on December 6, and the higher rates authorized will augment the company's revenue by £63,000 a year. All fares, single and return, horn id. to Is. 441, will go up by id. or Id, Those over Is. 4d. go up by 2d. Nine I ocal authorities objected to the increases.
Although new charges were intro duced by Birmingham Corporation on November 4, it is reported that the transport department is now considering a further application for revised fares. On last year's working, the department incurred a deficit of £213,024. In the ensuing period, costs have risen by £350,000 a year, of which £197,000 is represented by higher wage levels.
When the previous advance in fares was authorized, final decision on the part of the application seeking to introduce a 2d. minimum rate was deferred. Further consideration to this proposal may be given without another hear A substantial number of West Midland excursion and tours operators has applied for a 15-per-cent. increase in charges. A similar application covering express services is shortly to be made.
Municipal Difficulties Haslingden Corporation is considering another application for modified charges. Last year, the undertaking incurred a loss of £3,700. Ramsbottom, Rawtenstall and Bury Corporations, in conjunction with Ribble Motor Services. Ltd., are also discussing higher rates. Rawtenstall Corporation incurred a deficit of £8,000 last year. One of the proposals under consideration is the reduction of the availability of return tickets from three months to the day of issue only. In the Yorkshire Traffic Area, East Midland Motor Services, Ltd., has applied for permission to bring its charges into line with those of Sheffield Corporation, Trent Motor Traction Co., Ltd., and Mansfield District Traction Co.. Ltd. Nineteen routes are affected. Yorkshire Woollen District Transport Co., Ltd., has applied to bring fares into line with those applied for by Leeds Corporation over common sections of route.
Variations affecting 123 services are proposed by Trent Motor Traction Co., A30 Ltd. The application suggests that single fares up to 6d. be unchanged, that those from 7d. should go up by Id., that return fares from 7d. to 10d. should be advanced by ld., and thereafter by 2d. Workmen's fares are calculated on the single fare plus 33; per cent., with a minimum of 4d. and a maximum addition of 4d.
Exceptions to the application are where routes coincide with those of local authorities or those of other operators which have been granted higher fares. It is also proposed that where return and workmen's tickets on the revised schedule equal twice the ordinary single charge, they will be abolished.
Nottingham Corporation has applied to bring fares on some routes into line with those to be charged by West Bridgford Corporation.
Barton Transport, Ltd., has now lodged an application seeking to limit the availability of workmen's return tickets so that they may not be used for a return journey between 9 a.m. and midday.
IN A LINE OR TWO The British Export Trade Reseal:1i Organization is to be wound up.
A Tyresole service depot has been opened at 2026.Cromwell Street, Glasgow. 'I he existing Tyresoles factory at Paisley Road West will Zontinue to operate as usual.
Able to accommodate about 20 vehicles, a new bus station was opened last week at Bearwood. It will serve Birmingham Corporation, West Bromwich Corporation and Midland " Red" buses passing through the town.