U.A.S. Protected: Decision on Leave Services Inconsistent ?
11th January 1952
Page 31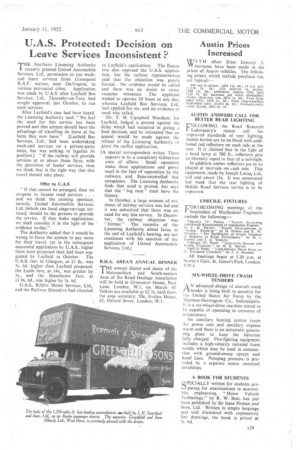 Page 31, 11th January 1952 —
U.A.S. Protected: Decision on Leave Services Inconsistent ?
Close
THE.Northern Licensing Authority recently granted United Automobile Services, Ltd.'. permission to run weekend leave services from Goosepool R.A.F. station, near Darlington, to
various provincial cities. Application was made by U.A.S. after Layfield Bus Services, Ltd., Thornaby-on-Tees, had sought approval, last October, to run such services.
After Layfield's case had been heard. the Licensing Authority said: " We feel the need for this service has been proved and that airmen should have the advantage of travelling On leave at the fares they now have." [Layfield Bus Services, Ltd., had been undertaking week-end services on a private-party basis, but was seeking to legalize its position.] "If the railway will provide services at or about those fares, with the provision of feeder services, then we think that is the right way that this travel should take place.
Offer to U.A.S.
"If that cannot be arranged, then we propose to license road services . . . and we think the existing operator, namely, United Automobile Services, Ltd. [which ran local stage-carriage services], should be the persons to provide the service. If they Make application, we shall consider it in the light of the evidence to-day."
The Authority added that it would be wrong to force the airmen to pay more for their travel, yet in the subsequent successful application by U.A.S., higher fares were proposed than had been suggested by Layfield in October. The U.A.S. fare to Glasgow, at £1 8s., was 5s. 6d. higher than Layfield proposed; the Leeds fare, at 14s., was greater by 3s., and the Manchester fare, at 1:1 Os. 6d., was higher by 3s. 6d.
U.A.S., Ribble Motor Services, Ltd., and the Railway Executive had objected to Layfield's application. The Execu tive also opposed the U.A.S. application, but the railway representatives said that the objection was purely formal. No evidence would be called and there was no desire to cross , examine witnesses. The applicant wished to operate 20 buses in any day, whereas Layfield Bus Services, Ltd.. had applied for six, and no evidence of need was called.
Mr. T. H. Campbell Wardlaw. for Layfield, lodged a protest against the • delay which had occurred in giving a final decision, and he intimated that an appeal would be made against the refusal of the Licensing Authority to grant the earlier application.
[A special 'correspondent writes: There appears to be a completely Gilbertian state of affairs. Small operators make these applications and prove need in the face of opposition by the railways and State-controlled bus companies. The Licensing Authority finds that need is proved, but says that the " big men" must have the licence.
In October, a large amount of evidence of railway services was led and it was submitted that there was no need for any bus service. In December, the railway objection ' was "formal." The remarks of the Licensing Authority about fares, at the end of Laytield's hearing, are not consistent with his sanction of the application of United Automobile. Services, Ltd.] R.H.A. AREA'S ANNUAL DINNER
THE annual dinner and dance of the Metropolitan and South-eastern Area of the Road Haulage Association will be held at Grosvenor House, Park Lane, London, W.1, on March 10 Tickets are available at L2 2s. each from the area secretary, 50a, Evelyn House. 62, Oxford Street, London, W.I.