Austin Prices Increased
11th January 1952
Page 31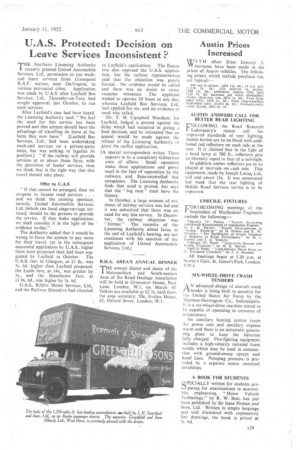 Page 31, 11th January 1952 —
Austin Prices Increased
Close
IT H effect from January 1, IT increases have been made in the prices of Aus:in vehicles. The following prices, which include purchase tax, are t ypical:—
A40 van in primer, £494 Its, 4d.; 16 hm, taxi, €1.319 Is, Id.; A70 pick-up in primer, £704 12s. 9d.; ambulance chassis,' £961 (plus £253 7s. 8d. purchase tax When applicable); 25-cwt. three-way van. £874 Is. 9d.; 2-ton dropsided lorry, £818 Is. 3d.; 5-ton long-wheelbase drop-sided lorry, £1,014 6s. 5d.; forward-control coach chassis, £892 65. Id.
AUSTIN ANSWERS CALL FOR BETTER REAR LIGHTING
L'OLLOWING the Road Research Laboratory's recent call for improved standards of rear lighting, Austin lorries are to be fitted with additional red reflectors on each side at the rear. It is claimed that in the light of a head lamp at 700 ft., reflectors give in intensity equal to that of a tail-light. In addition, amber reflectors are to be placed at intervals on L.ach side. This equipment, made by Joseph Lucas, Ltd., will cost about 15s. It was announced last week that the rear lighting of British Road Services lorries is to be improved.
I.MECH.E. FIXTURES
E"ORTFICOMING meetings of . the 1 Institution of Mechanical Engineers include the following:— retwuary 22: Papers. "Faders Governinti Anti-knock Requirements of Autoniobile Engines D. Davies; " Recent Developments in ' Knock ' Research" by D. Downs and It. W. Wheeler; " The Significance of Octane Numbers n Relation to Road Performance' by M. E Latwell and J. G. Withers.
February 29: Paper, " Gear-tooth Stresses and
Rating Formulae ' by E. Merritt.
Npril 8: Paper, "Long-distance Diesel Roses on the European Continent " by S. A. Steeman.
All meetings begin at 5.30. p.m. at Storey's Gate, St. James's Park, London, SW.].
SIX-WHEEL-DRIVE CRASH TENDERS
AN advanced.design of aircraft crash tender is being built in quantity for the United States Air Force by the Marmon-Herrington Co.. Indianapolis. It is a six-wheel-drive machine stated to he capable of operating in extremes of temperature,
An auxiliary heating system keeps the power unit and ancillary engines warm and there is an automatic generating plant to keep the batteries fully charged. Fire-fighting equipment includes a high-velocity turreted foam nozzle which may be used in conjunction with ground-sweep sprays and hand lines. Pumping pressure is provided by a separate motor mounted amidships.
A BOOK FOR STUDENTS Q PECIALLY written for students preL.) paring for examinations in automohile engineering, "Motor Vehicle Technology," by R. W. Beat, has just been published by Sir Isaac Pitman and Sons, Ltd. Written in simple language and well illustrated with explanatory line drawings, the book is priced at 7s. 6d.