Men in the News
11th January 1952
Page 30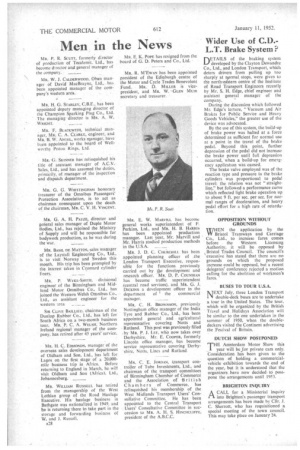 Page 30, 11th January 1952 —
Men in the News
Close
MR. P. R. Scurr, formerly director of production of Tecalemit. Ltd., has become director and general manager of theon1pany.
Ma. W. J. CALDERWOOD, ()bail manager of David MacBrayne, Ltd., has been appointed manager of the company's western area.
MR. H. G. SriotLEv, C.B.E.. has been appointed deputy managing director of the Champion Sparking Plug Co., Ltd. 1 he managing, director is Ma. A. W.
MR. F. BLACKW [TM, technical manager, Ma C. A. CLARKE, engineer, and Ma. B. W. ANGEL, works manager, have 1.A:en appointed to the hoard of Wellworthy Piston Rings, Ltd.
Ma. G. SKINNER has relinquished his title of assistant manager of A.C.V., Sales, Ltd., and has assumed the duties, primarily, of manager of the inspection and dispatch department.
MR. G. G. WHILIINGHAM honorary treasurer of the Omnibus Passengers' Protection Association, is to act as chairman consequent upon the death of the chairman, MR. C. V. H. VINCENT.
MR. G. A. H. PAYZE, director and general sales manager of Duple Motor Bodies, Ltd., has rejoined the Ministry of Supply and will be responsible for bodywork production, as he was during the war.
MR. BASIL DE MaTios, sales manager of the Laystall Engineering Co., Ltd., is to visit Norway and Sweden this month. His trip has been prompted by the interest taken in Cromard cylinder liners. MR. P. WYKE-SMI ni, divisional engineer of the Birmingham and Midland Motor Omnibus Co., Ltd.. has joined the Western Welsh Omnibus Co., Ltd., as assistant engineer for the western -area SIR CLIVE BAntir.u. chairman of the Dunlop Rubber Co., Ltd., has left for South Africa on a iwo-month business tour. MR. P. C. A. WELSH. Northern Ireland regional manager of the company, has retired after 45 years' service.
Ma. H. C. EDMONDS, manager of the overseas sales development department of Oldham and Son, Ltd., has left for Lagos on the first stage of a 20,000
mile business trip in Africa. Before returning to England in March, he will visit Oldham and Son (Africa), Ltd., Johannesburg. _
Ma. WILLIAM RUSSELL has retired from the managership of the West Lothian group of the Road Haulage Executive. His haulage business in Bathgate was nationalized in 1949. and he is returning there to take part in the storage and forwarding business of W. and J. Russell.
A28
MR. E. K. POPE has resigned from the board of G. D. Peters and Co., Ltd.
Ma. R. M'Ewiust has been appointed president of the Edinburgh centre of the Motor and Cycle Trades Benevolent Fund. MR. D. MILLER is icepresident, and MR. W. 'GLEN MUIR secretary and treasurer. • MR. E. W. Mattvitt has become general works superintendent of F. Perkins, Ltd., and MR. H. B. HAtuus has been appointed production manager. Last year, Mr. Marvill and Mr. Harris studied production methods in the U.S.A.
MR. J. I). C. CHURCHILL has been appointed planning officer of the London Transport Executive, responsible for the functions previously carried out by tbe development and research officer. MR. D. P. COUNIHAN has become traffic superintendent ,(central road services), and MR. G. J. DtaciNs a development officer in the
department of ' the commercial manager.
MR. C. H. BROWNSON, previously Nottingham office manager of the India Tyre and Rubber Co., Ltd., has been appointed general and agricultural representative covering Notts and Rutland. This post was previously filled . by Ma. P. J. LEE, who now takes over Derbyshire. Mr. E. COOPER, formerly Lincoln office manager, has become service representative covering Derbyshire, Notts, Lines and Rutland, Ma. C. E. JORDAN, transport controller of Tube Investments, Ltd., and chairman of the transport committees of Birmingham Chamber of Commerce and the Association of Brit i sh C h am hers of Commerce, has relinquished his membership of the West Midlands Transport Users' Consultative Committee. He has been appointed to the Central Transport Users' Consultative Committee in succession to MR. A. H. S. I .4INCIICLI FEE, president of the A.B.C.0
Tags
People
:
D. P. COUNIHAN
,
C. A. CLARKE
,
G. G. WHILIINGHAM
,
H. C. EDMONDS
,
C. CHURCHILL
,
Marvill
,
C. H. BROWNSON
,
WILLIAM RUSSELL
,
E. COOPER
,
P. R. Scurr
,
P. J. LEE
,
D. MILLER
,
Harris
,
A. H. PAYZE
,
F. BLACKW
,
E. W. Mattvitt
,
C. E. JORDAN
,
R. M'Ewiust