"Shadow Plan" for Free Hauliers ?
11th January 1952
Page 29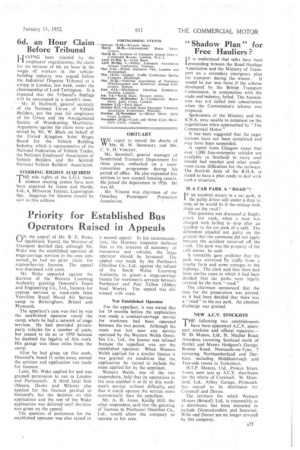 Page 29, 11th January 1952 —
"Shadow Plan" for Free Hauliers ?
Close
IT is understood that talks have been I proceeding beween the Road Haulage Association and the Ministry of Transport on a secondary emergency plan for transport during the winter. It would be put into force if the scheme developed by the British Transport Commission, in conjunction with the trade and industry, failed. The Association, was nat • called into consultation when the Commission's scheme was prepared.
Spokesmen of the Ministry and the R.H.A. were unable to comment on the negotiations when approached by "The Commercial Motor."
It has been suggested that the negotiations have not been completed and may have been suspended.
A report from Glasgow states that over 1,000 free-enterprise vehicles are available in Scotland to carry coal should had weather 'and other conditions cause difficulties for the railways. The Scottish Area of the R.H.A. is stated to have a plan ready to deal with such a situation.
IS A CAR PARK A "ROAD"?
1 F an accident occurs in a car park, is 1 the guilty driver still under a duty to stop, as he would be if the mishap took place on the road ?
This question was discussed at Rugby court, last week, when a man was charged with failing to stop after an accident in the car park of a cafe. The defendant pleaded not guilty on the ground that the summons did not apply because the accident occurred off the road. The park was the property of the cafe owner, he said. • A constable gave evidence that the park was traversed y traffic from a nearby farm and some cottages to the highway. The clerk said that there had been similar cases in which it had been decided that car parks were legally covered by the term "road."
The chairman announced that the case for the prosecution was proved, as it had been decided that there was a "road" in the car park. An absolute discharge was granted.
NEW A.C.V. STOCKISTS
THE following two establishments have been appointed A.C.V. sparepart stockists and official repairers:— W. D. Munro, Ltd., St. Machar Road, Aberdeen (covering Scotland north of Perth); and Messrs Hodgson's Garage, Benton Road, Newcastle-on-Tync, 7 (covering Northumberland and Durham, including Middlesbrough and Tees-side towns in Yorkshire).
H.T.P. Motors, Ltd., Princes Street, Truro, now acts as A.C.V. distributor for the whole of Cornwall. W. Mumford, Ltd., Abbey Garage, Plymouth. has ceased to be distributor for Cornwall and Devon.
The territory for which Western Motors (Bristol); Ltd., is responsible as a distributor has been amended to include Gloucestershire and Somerset. Wilts and Dorset are no longer covered by this company.