Priority for Established Bus Operators Raised in Appeals
11th January 1952
Page 29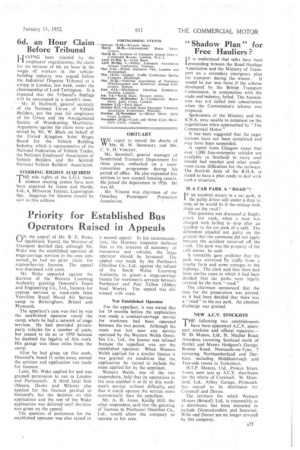 Page 29, 11th January 1952 —
Priority for Established Bus Operators Raised in Appeals
Close
1,--0 the appeal of Mr. R. E. Wake,
Sparkford, Yeovil, the Minister of Transport decided that, although Mr. Wake was the established operator of stage-carriage services in the area concerned,,he had no prior claim for expressiservice licences. . The appeal was dismissed with costs.
Mr. Wake appealed against the decision of the Western Licensing Authority granting Osmond's Tours and Engineering Co., Ltd., licences for express services at week-ends from Yeovilton Royal Naval Air Service camp to Birmingham, Bristol and Plymouth.
The appellant's case was that he was the established operator round the camp, where he had a network of stage services. He had provided privateparty vehicles for a number of years, but ceased to do so in 1950 because he doubted the legality of this work. His garage was three milesfrom the camp.
After he had give,n up this work, Osmond's, based II miles away, started the services and application was made for licences.
Later, Mr. Wake applied for and was granted permission to run to London and Portsmouth. A third local firm (Messrs. Danks and Wilcox) also applied for the licences granted to Osmond's, but the decision' on this application and the rest of the Wake application was deferred until decision was given on the appeal.
The question of preference for the established operator was also raised in a second appeal. In his recommendation, the Ministry inspector declared that in the interests of economy of manpower and vehicles, the large operator should be favoured. The appeal was made by the Porthcawl Omnibus Co, Ltd., against the refusal of the South Wales Licensing Authority to grant a stage-carriage licence for workmen's services between Porthcawl and Port Talbot (Abbey Steel Works). The appeal was dismissed with costs.
Not Established Operator
For the appellant, it was stated that for 19 months before the application was made a contract-carriage service for workmen had been operated between the two points. Although the route was not near any service operated by the Western Welsh Omnibus Co., Ltd., the licence was refused because the appellant was not the established operator. When Western Welsh applied for a similar licence it was granted on condition that the application be varied to include the route applied for by the appellant.
Western Welsh, one of the two respondents, held that its operations in the area enabled it to fit in this workmen's service without difficulty, and that it could operate the service more economically than the appellant.
Mr. A. H. Jones, Kenfig Hill, 'the other respondent, said that the granting of licences to Porthcawl Omnibus Co., Ltd., would allow the company to operate in his area.