HAVINH AVING been rejected by the employers" organizations, the claim for
11th January 1952
Page 29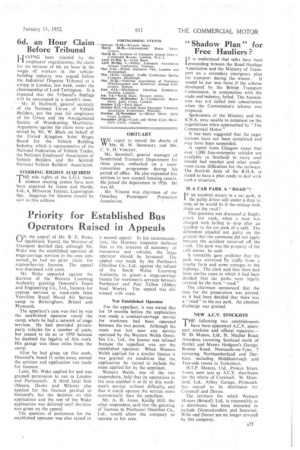 Page 29, 11th January 1952 —
HAVINH AVING been rejected by the employers" organizations, the claim for
Close
an increase of 6d. an hour in the wages of workers in the , vehiclebuilding industry was argued before the Industrial Disputes Tribunal at a sitting in London, last week, under the chairmanship of Lord Terrington. It is expected that the Tribunal's findings Will be announced in a month's time.. Mr. H. Halliwell, general secretary dl the NationalUnion of Vehicle Builders, put the case for employees of his Union and the Amalgamated Society of Woodcutting Machinists. Arguments-against the claim were submitted by Mr. W. Blackon behalf of the United Kingdom Joint Wages Board for the Vehicle • Building Industry, which is representative of the National Federation of Vehicle Trades, the National Employers' Association of Vehicle Builders and the Scottish National Vehicle Builders' Association.
STEERING RIGHTS ACQUIRED THE sole rights of the L.G.I. trans' mission steering system have now been acquired by Gates and Hardy, Ltd., 6, Milverton TerraCe, Leamington Spa. Inquiries for licences should be sent to this address.
OBITUARY
I'VE regret to record the deaths of Vv Mn. H. W. SNOWBALL and MR. C. V. H. VINCENT.
Mr. Snowball, general manager of Sunderland Transport Department for three years, embarked on a tramconversion programme during his period of office. He also expanded bus services to new council housing estates. He joined the department in 1926. He was 63.
Mr. Vincent was chairman of the Omnibus Passengers' Protection Association.