One Hears
11th January 1952
Page 27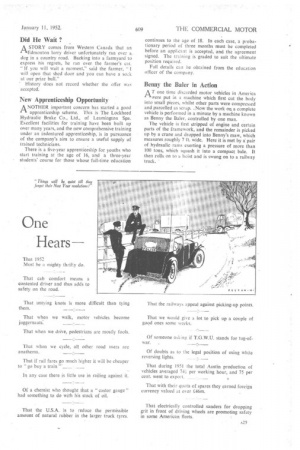 Page 27, 11th January 1952 —
One Hears
Close
.`That 1952
Must be a mighty thrifty do.
That cab comfort means a contented driver and thus adds to safety. on the road.
That untying knots is more difficult than tying them.
That when we walk, motor vehicles become juggernauts.
That when we drive, pedestrians are mostly fools.
That when we cycle, all other road users are anathema.
That if rail fares go much higher it will be cheaper to "go buy a train "'_____
In any case there is little use in railing against it.
Of a chemist who thought that a "castor gauge" had something to do with his stock of oil.
• That the U.S.A. is to reduce the permissible amount of natural rubber in the larger truck tyres. That the railways appeal against picking-up points.
That we would give a lot to pick up a couple of good ones some weeks.
Of someone asking if T.G.W.U. stands for tug-ofwar.
Of doubts as to the legal position of using white reversing lights.
That during 1951 the total Austin production of vehicles averaged 74 per working hour, and 75 per cent. went to export
That with their quota of spares they earned foreign currency Valued at over £46m.
That electrically controlled sanders for dropping grit in front of driving wheels are promoting safety in some American fleets.