Too Much Protection
11th January 1952
Page 26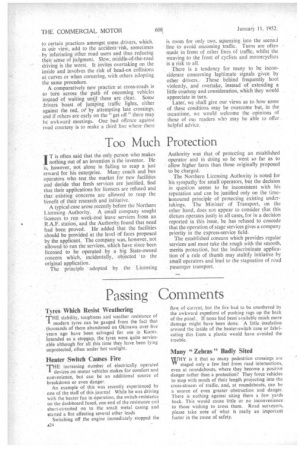 Page 26, 11th January 1952 —
Too Much Protection
Close
T is often said that the only person who makes I nothing out of an invention is the inventor. He is, however, not alone in failing to reap a just reward for his enterprise. Many coach and bus operators who test the market for new facilities and decide that fresh services are justified, find that their applications for licences are refused and that existing concerns are allowed to reap the benefit of their research and initiative.
A typical case arose recently before the Northern Licensing Authority. A small company sought 'licences to run week-end leave services from an R.A.F. station, and the Authority, found that need had been proved. He added that the facilities should be provided at the level of fares proposed by the applicant. The company was, however, not allowed to run the services, which have since been licensed to be operated by a big State-owned concern which, incidentally,, objected to the original application.
The principle • adopted by the Licensing Authority was that of protecting an established operator and in doing so he went so far as to allow higher fares than those originally proposed to be charged.
The Northern Licensing Authority is noted for his sympathy for small operators, but the decision in question seems to be inconsistent with his reputation and can be justified only on the timehonoured principle of protecting existing undertakings. The Minister of Transport, on the other hand, does not appear to consider that this dictum operates justly in all cases, for in a decision reported in this issue, he has refused to concede that the operation of stage services gives a company priority in the express-service field.
The established concern which provides regular services and must take the rough with the smooth, merits protection, but the indiscriminate application of a rule of thumb. may stultify initiative by small operators and lead to the stagnation of road passenger transport.