Passing Comments
11th January 1952
Page 26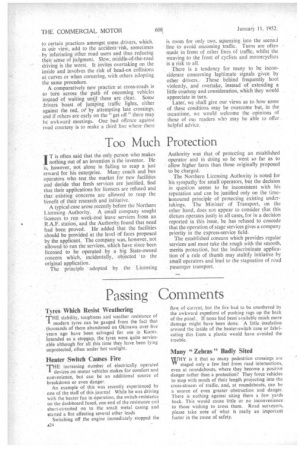 Page 27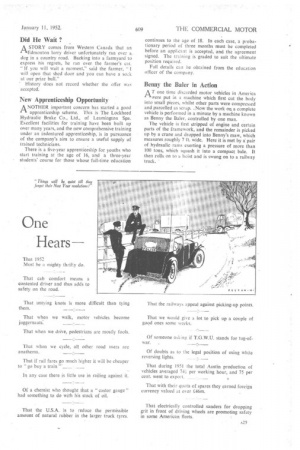 Page 26, 11th January 1952 —
Passing Comments
Close
Tyres Which Resist Weathering
THE stability, toughness and weather resistance of I modern tyres can be gauged from the fact that thousands of them abandoned on Okinawa over the years ago have been salvaged for use in Korea. Intended as a stopgap, the tyres were quite serviceable although for all this time they have been lying unprotected, often under hot sunlight.
Heater Switch Causes Fire
THE increasing number of electrically operated A devices on motor vehicles makes for comfort and convenience, but can be an additional source of breakdown or even danger.
An example of this was recently experienced by one of the staff of this journal While he was driving with the heater fan in operation, the switch-resistance on the dashboard fused, one end of the resistance coil short-circuited on to the small metal casing and started a fire affecting several other leads Switching off the engine immediately stopped the A24 flow of current, but the lire had to be smothered by the awkward expedient of pushing rags up the back of the panel. If none had been available much more damage might have been done. A little insulation around the inside of the heater-switch'casq or fabricating this from a plastic would have avoided the trouble.
Many " Zebras " Badly Sited
wHY is it that so many pedestrian crossings are " staged only a few feet from road intersections, even at roundabouts, where they become a positive danger rather than a protection? They force vehicles to stop with much of their length projecting into the cross-stream of traffic, and, at roundabouts, can be a source of even greater obstruction and danger. There is nothing against siting them a few yards back. This would cause little or no inconvenience. to those wishing to cross them. Road surveyors, please take note of what is really an important factor in the cause of safety.
Did He Wait ?
ASTORY comes from Western Canada that an Edmonton lorry driver unfortunately ran over a dog in a country road. Backing into a farmyard to express his regrets, he ran over the farmer's cat. " If you will wait a moment," said the farmer, 1 will open that shed door and you can have a sock at our prize bull."
' History .does not record whether the offer was accepted.
New Apprenticeship Opportunity
ANOTHER important concern has started a good apprenticeship scheme. This is The Lockheed Hydraulic Brake Co., Ltd., of Leamington Spa. Excellent facilities for training have been built up over many years, and the new comprehensive training under an indentured apprenticeship, is in pursuance of the company's aim to ensure a useful supply of trained technicians.
There is a five-year apprenticeship for youths who start training at the age of 16, and a three-year students' course for those whose full-time education continues to the age of 18. In each case, a probationary period of three months must be completed before an applicant is accepted, and the agreement signed. The training is graded to suit the ultimate position required.
Full details can be obtained from the education officer of the company.
Benny the Baler in Action
AT one time discarded motor vehicles in America were put in a machine which first cut the body into small pieces, whilst other parts were compressed and parcelled as scrap. .Now the work Oil a complete vehicle is performed in a minute by a machine known as Benny the Baler, controlled by one man.
The vehicle is first stripped of engine and certain parts of the framework, and the remainder is picked up by a crane and dropped into Benny's maw, which measures roughly 7 ft. wide. Here it is met by a' pair of hydraulic rams exerting a pressure of more than 100 tons, which squash it into a compact bale. It then rolls on to a hoist and is swung on to a railway truck. '