AIR TRANSPORT NEWS
11th January 1935
Page 54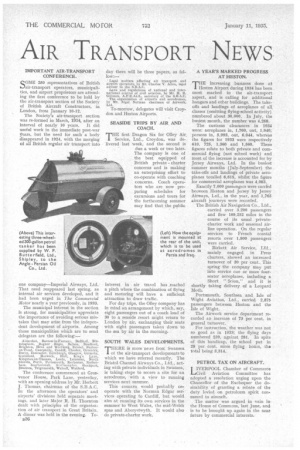 Page 54, 11th January 1935 —
AIR TRANSPORT NEWS
Close
Keywords :
IMPORTANT AIR-TRANSPORT CONFERENCE.
SOIVIE 250 representatives of British ).-)air-transport operators, municipalities, and airport proprietors are attending the first conference to be held by the air-transport section of the Society of British Aircraft Constructors, in London, from January 10-12.
The Society's air-transport section was re-formed in March, 1934, after an
interval of nearly 10 years. It did useful work in the immediate post-war rears, but the need for such a body disappeared in 1924, with the merging of all British regular air transport into one company—Imperial Airways, Ltd. That need reappeared last spring, as internal air services developed, and it had been urged in The Commercial Motor nearly a year previously, in 1933.
The municipal interest in the section IS strong, for municipalities appreciate the importance of avoiding serious mistakes that may arise from the independent development of airports. Among those municipalities which are to send delegates are the following:—
Alderahot, Barrow-in-Furnes.;,
mingliani, Bognor Regis, Bolton, Bradford, Brighton, Hove and Worthing, Bristol, Burtonon.Trent, Caerphilly, Cardiff, Chester, Coventry, Derby, Doncaster, Edinburgh, Glasgow, Grimsby, Guildford, Harwich, Dull, King's Lynn, Kingston-on-Thames, Leeds, Leicester, North Shields, Perth, Portsmouth, Rochester, Bother,ham. Sca thorough. S.-q+t hs treon. Stockport, Swansea, Teignmouth, Walsall, Watford.
The conference commenced at Grosvenor House, Park Lane, yesterday, with an opening address by Mr. Herbert J.' Thomas, chairman of the S.B.A.C. In the afternoon the operators' and airports' divisions held separate meetings, and later Major R. H. Thornton dealt with principles .of the organizaIion of air transport in Great Britain. A dinner was held in the evening. To' B36
day there will be three papers, as follow:—
Legal matters affecting air transport and airport operators, by Mr. Charles V. Allen, legal adviser to the B.B.A.C.
Laws and regulations of national and inter. national control of civil aviation, by Mr. H. R. Gillman, A.P.R.Ae.S., secretary of the S.B.A.O. The organization of airports and aerodromes, by Mr. Nigel Norman chairman of Airwork, Ltd.
To-morrow, delegates will visit Croydon and Heston Airports.
SEASIDE TRIPS BY AIR AND COACH.
Dragon Six for 011ey Ltd., Croydon, was deweek, and the second is due a week or two later. The company is one of the best equipped of British private charter concerns and is making an enterprising effort to co-operate with coaching concerns. Coach operators who are now preparing schedules for excursions and tours for the forthcoming summer may find that the public
interest in air travel has _reached a pitch where the combination of flying and motoring will have a sufficient attraction to draw traffic.
For day trips, the 011ey company has in mind an arrangement by which, say, eight passengers out of a coach load of 30 to a seaside resort might return to London by air, exchanging their seats with eight passengers taken down to the sea by air in the morning.
SOUTH WALES DEVELOPMENTS.
THERE is more -news from Swansea of the air-transport developments to which we have referred recently. The Bristol Channel Airways Co., Ltd., acting with private individuals in Swansea, is taking steps to secure a site for an aerodrome, with a view to running services next summer.
This concern would probably cooperate with the Norman Edgar services operating to Cardiff, but would aim at running its own services in the summer to West Wales, the mid-Welsh spas and Aberystwyth. It would also do private-charter work. A YEAR'S MARKED PROGRESS AT HESTON.
m increasing business done at J. Heston Airport during 1934 has been most marked in the air-transport aspect, and is calling for additional hangars and other buildings. The takeoffs and landings of aeroplanes of all classes (omitting flying-school activity) numbered about 30,000. In July, the busiest month, the number was 4,268.
The customs clearances in 1934 were: aeroplanes in, 1,760, out, 1,940; persons in, 5,993, out, 6,044, whereas the figures for 1933 were respectively 610, 725, 1,360 and 1,560. These figures relate to both private and commercial flying (not school work) and most of the increase is accounted for by Jersey Airways, Ltd. In the busiest summer months (July-September) the take-offs and landings of private aeroplanes totalled 6,615, whilst the figure for commercial aeroplanes Was 4,083.
Exactly 7,000 passengers were carried between Heston and Jersey by Jersey Airways, Ltd., in the year, and 1,765 aircraft journeys were recorded.
The British Air Navigation Co., Ltd., carried over 3,200 passengers and flew 189,252 miles in the course of its usual privatecharter work and seasonal airline operation. On the regular services to French coastal resorts over 1,900 passengers were carried.
Birkett Air Service, Lfd., mainly engaged in Press charters, showed an increased turnover of 30 per cent. This spring the company may put into service one or more fourseater aeroplanes, including a Short "Scion," and it is shortly taking delivery of a Leopard Moth.
Portsmouth, Southsea and Isle of Wight Aviation, Ltd., carried 2,875 passengers between Heston and the Isle of Wight.
The Airwork service department recorded an increase of 73 per cent. in general turnover.
For instruction, the weather was not so good as in 1933; the flying days numbered 239, against 281. In spite of this handicap, the school put in 28 per cent, more flying hours, the total being 3,314.
PETROL TAX ON AIRCRAFT.
IVERPOOL Chamber of Commerce 1..rCivil Aviation Committee has adopted a resolution urging upon the Chancellor of the Exchequer the desirability of granting a rebate of the duty levied on petroleum spirit consumed in aircraft.
The matter was argued in vain in the House of Commons, last June, and is to be brought up again in the near future by commercial interests.