HEAVY-DUTY TRAILERS ON COAL TRANSPORT.
11th January 1935
Page 39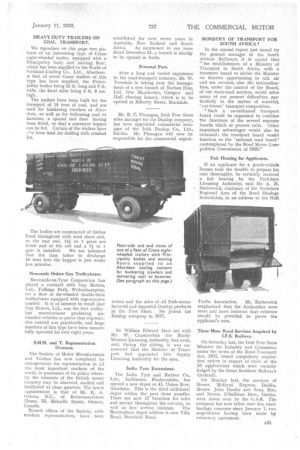 Page 39, 11th January 1935 —
HEAVY-DUTY TRAILERS ON COAL TRANSPORT.
Close
We reproduce on this page two pictures of an interesting type of Crane eight-wheeled trailer, equipped with a Principality body and moving floor, which has been supplied to the North of Scotland Coaling Co., Ltd., Aberdeen. A fleet of seven Crane trailers of this type has been supplied, the Principality bodies being 22 ft. long and 7 ft. wide, the fixed sides being 3 ft. 8 ins. high.
The trailers have been built for the transport of 15 tons of coal, and are used for bunkering trawlers at Aberdeen, as well as for delivering coal to factories, a special end door having been fitted, so that a conveyor hopper can be fed. Certain of the trailers have alto been used for dealing with crushed The bodies are constructed of timber lined throughout with steel sheet and, at the rear end, l4 to 1 gears are fitted and at the cab end a 7-i to 1 gear is installed. We are informed that the time taken to discharge 15 tons into the hopper is just under five minutes.
Newcastle Orders Guy Trolley buses.
Newcastle-on-Tyne Corporation has placed a contract with Guy Motors, Ltd., Fallings Park, Wolverhampton, for a fleet of six-wheeled double-deck trolleybuses equipped with regenerative control. It is of interest to recall that Guy Motors, Ltd., was the first trolleybus manufacturer producing sixwheeled vehicles to prove that regenerative control was practicable, and large numbers of this type have been successfully operated for over eight years.
S.M.M. and T. Representation Overseas.
The Society of Motor Manufacturers and Traders has now completed its arrangements for representation in all the most important markets of the world, in pursuance of its policy whereby the interests of the British motor industry may be observed, studied and facilitated at close quarters. The latest appointment is that of Mr. K. A. Greene, KC., of Robertson-Green House, 53, Metcalfe Street, Ottawa, Canada.
Branch offices of the Society, with resident representatives, have . been established for over seven years in Australia, New Zealand and South Africa. As mentioned in out issue dated December 21, a branch is shortly to be opened in India.
Personal Pars.
After a long and varied experience in the road-transport industry, Mr. W. Tweedale is taking over the management of a new branch of Nathan Fine, Ltd. (the Manchester, Glasgow and Hull clearing house), which is to be opened at Bilberry Street, Rochdale.
Mr. R. C. Flanagan, Irish Free State sales manager for the Dunlop company, has been appointed commercial manager of the Irish Dunlop Co., Ltd., Dublin. Mr. Flanagan will now be responsible for the commercial organi zation and the sales of all Irish-manufactured and imported Dunlop products in the Free State. He joined the Dunlop company in 1911.
Sir William Edward Hart sat with Mr. W. Chamberlain the NorthWestern Licensing Authority, last week, and, during the' sitting, it was announced that the Minister of Transport had appointed him deputy Licensing Authority for the area.
India Tyre Extensions.
The India Tyre and Rubber Co., Ltd., Inchinnan, Renfrewshire, has opened a new depot at 41, Union Row, Aberdeen. This is the third additional depot within the past three months. There are now 17 branches for sales and service throughout the coentry, as
well as five service stations. The Nottingham depot address is now Villa Road, Mansfield Road. MINISTRY OF TRANSPORT FOR SOUTH AFRICA?
In the annual report just issued by the general manager of the South African Railways, it is stated that " the establishment of a Ministry of Transport in South Africa, with a transport board to advise the Minister on matters appertaining to rail, air and sea services, also the nationalization, under the control of the Board, of our main-road services, would solve many of our present difficulties, particularly in the matter of wasteful,. 'cut-throat' transport competition.
'" Such a co-ordinated transport board could be organized to combine the functions of the several separate boards which at present exist. Other important advantages would also• be obtained ; the transport board would function as the 'national road board' contemplated by the Road Motor Com-, petition Commission of 1929."
Fair Hearing for Applicants.
If an applicant for a goods-vehicle licence took the trouble to prepare his case thoroughly, he certainly received a fair hearing by the Yorkshire Licensing Authority, said Mr. A. H.
— Butterwick, chairman of the Yorkshire Regional Area of the Road Haulage Association, in an address to the Hull Traffic Association, Mr. Butterwick emphasized that the Authorities were more and more insistent that evidence should be provided to prove the applicant's case.
Three More Road Services Acquired by I.F.S. Railway.
On Saturday last, the Irish Free State Minister for Industry and Commerce, under the terms of the Road Transport Act, • 1933, issued compulsory acquisition orders in respect of three of the 10 applications which were recently lodged by the Great Southern Railways (Ireland).
On Monday last, the ,services of Messrs. Midland Express, Dublin, Messrs. John Dooley and Sons, Birr, and Messrs. O'Sullivan Bros., Dublin, were taken over by the G.S.R. The company has now taken over five road-. hatilage concerns since January. 1, two acquisitions having been made by voluntary agreement.