Coming Modifications in the Law • Concerning Commercial Vehicles
11th January 1935
Page 36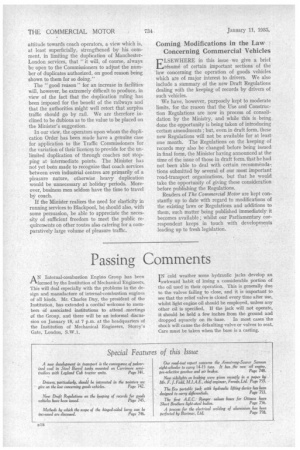 Page 36, 11th January 1935 —
Coming Modifications in the Law • Concerning Commercial Vehicles
Close
ELSEWHERE in this issue we give a brief résumé of certain important sections of the law concerning the operation of goods vehicles which are of major interest to drivers. We also include a summary of the new Draft Regulations dealing with the keeping of records by drivers of such vehicles.
We have, however, purposely kept to moderate limits, for the reason that the Use and Construction Regulations are now in process of consolidation by the Ministry, and while this is being,. done the opportunity is being taken of introducing certain amendments ; but, even in draft form, these new Regulations will not be available for at least one month. The Regulations on the keeping of records may also be changed before being issued in final form, the Minister having announced at the time of the issue of those in draft form, that he had not been able to deal with certain recommenda-, tions submitted by several of our most important road-transport organizations, but that he would take the opportunity of giving these consideration before publishing the Regulations.
Readers of The Commercial Motor are kept constantly up to date with regard to modifications of the existing laws or Regulations and additions to them, such matter being published immediately it becomes available ; whilst our Parliamentary correspondent keeps in touch with developments leading up to fresh legislation.