Conciliation Agreement Enforced
11th January 1935
Page 35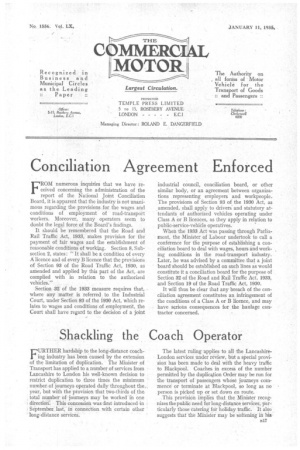 Page 35, 11th January 1935 —
Conciliation Agreement Enforced
Close
FROM numerous inquiries that we have received concerning the administration of the report of the National Joint Conciliation Board, it is apparent that the industry is not unanimous regarding the provisions for the wages and conditions of employment of road-transport workers. Moreover, many operators seem to doubt the legal force of the Board's findings.
It should be remembered that the Road and Rail Traffic Act, 1933, makes provision for he payment of fair wages and the establishment of reasonable conditions of working. Section 8, Subsection 2, states: "It shall be a condition of every A licence and of every B licence that the provisions of Section 93 of the Road Traffic Act, 1930, as amended and applied by this part of the Act, are complied with in relation to the authorized vehicles."
Section 32 of the 1933 measure requires that, where any matter is referred to the Industrial Court, under Section 93 of the 1934 Act, which relates to wages and conditions'.of employment, the Court shall have regard to the decision of a joint industrial council, conciliation board, or other similar, body, or an agreement between organizations representing employers and workpeople.. The provisions of Section 93 of the 1930 Act, as r amended, shall apply to drivers and statutory attendants of authorized vehicles operating under Class A or B licences, as they apply in relation to public-service-vehicle operatives.
When the' 1933 Actwas passing through Parliament, the Minister of Labour undertook to call a conference for the purpose of establishing a conciliation board to deal with wages, hours and working conditions in the road-transport industry. Later, he was advised by a committee that a joint board should be established on such lines as would constitute it a conciliation board for the purpose of Section 32 of the Road and Rail Traffic Act, 1933, and Section 19 of the Road Traffic Act, 1930.
It will thus be clear that any breach of the conciliation agreement constitutes an infringement of the conditions of a Class A or B licence, and may have scrious consequences for the haulage contractor concerned.