The Amir' s Afghan Drivers.
11th January 1912
Page 19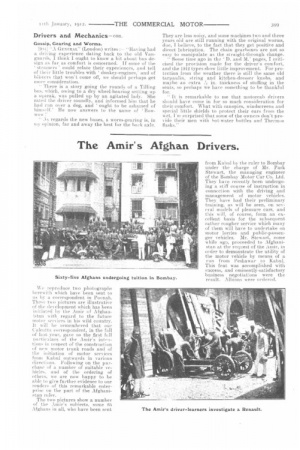 Page 19, 11th January 1912 —
The Amir' s Afghan Drivers.
Close
We reproduce two photographs herewith which have been sent to us by a correspondent in Poonah. These two pictures are illustrative of the development which has been initiated try the Amir cf Afghanistan with regard to the future inotor services in his wild country. It will be remembered that our Calcutta correspondent, in the fall of last year, gave us the first full particulars of the Arnir's inteotions in respect of the construction of new motor trunk roads and of the initiation of motor services from Kabul. outwards in various direct ions. Following on the purchase of a number of suitable vehicles. and of the ordering of others, we are now happy to be able 14, give further evidence to our readers of this remarkable enterprise on the part of the Afghanistan ruler.
The two pictures show a number of the Amir's subiects. some (35 Afghans in all, who have been sent from Kabul by the ruler to Bombay under the charge of Mr. Park Stewart, the managing engineer of the Bombay Motor Car Co. Ltd. They have recently been undergoing a stifT course of instruction in connection with the driving and management of motor vehicles. They have had their preliminary training, as will he seen, on several models of pleasure cars, and this will, of course, form an excellent basis for the subsequent rather rougher service which many of them will have to undertake on motor lorries and public-passenger vehicles. Mr. Stewart, sortie while ago, proceeded to Afghanistan at the request of the Amir, in order to demonstrate the utility of the motor vehicle by means of a run from Peshawar to Kabul. This feat was accomplished with success, and eminently-satisfactory business negotiations were the result. Albions were ordered.