Association Opinion on the Scheme
11th February 1955
Page 61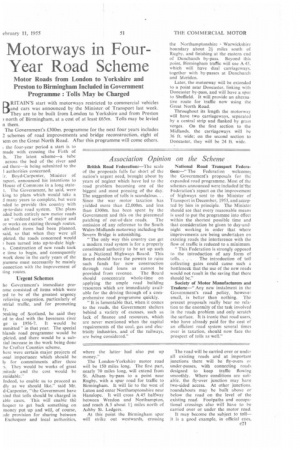 Page 61, 11th February 1955 —
Association Opinion on the Scheme
Close
British Road Federation:—The scale of the proposals falls far short of the nation's urgent need, brought about by years of neglect which have led to the road problem becoming one of the biggest and most pressing of the day. The suggestion of tolls is scandalous... Since the war motor taxation has yielded more than £2,000m. and less than £300m. has been spent by the Government and this on the piecemeal
patching of out-of-date roads. The omission of any reference to the South Wales-Midlands motorway including the Severn Bridge is astonishing.
" The only way this country can get a modern road system is for a properly constituted authority to be set up such as a National Highways Board. This Board should have the powers to raise such funds for new construction through road loans as cannot be provided from revenue. The Board should concentrate whole-time on applying the ample road building resources which are immediately available for the driving through of a comprehensive road programme quickly.
"It is lamentable that, when it comes to the roads, the Government shelters behind a variety of excuses, such as lack of finance and resources, which are never mentioned when the capital requirements of the coal, gas and electricity industries, and of the railways, are being considered." National Road Transport Federation:—" The Federation welcomes, the Government's proposals for the expanded road programme. Most of the schemes announced were included in' the Federation's report an the improvement of highways sent to the Minister of Transport in December, 1953, and accepted by him in principle. The Minister should see that every reasonable means is used to put the programme into effect within the shortest possible time and that consideration be given to day-andnight working in order that where improvements are being undertaken on existing roads the interference with the flow of traffic is reduced to a minimum.
"This Federation is strongly opposed to the introduction of any form of tolls. . . The introduction of toll collecting gates could cause such a bottleneck that the use of the new roads would not result in the saving that there should be."
Society of Motor Manufacturers and Traders:—" Any new instalment in the Government's road policy, however small, is better than nothing. The present proposals really bear no relation to the enormity of the task involved in the roads problem and only scratch the surface. It is ironic that road users, who have already paid for the cost of an efficient road system several times over in taxation, should now face the prospect of tolls as-well."