What is This T
11th February 1955
Page 56
Page 57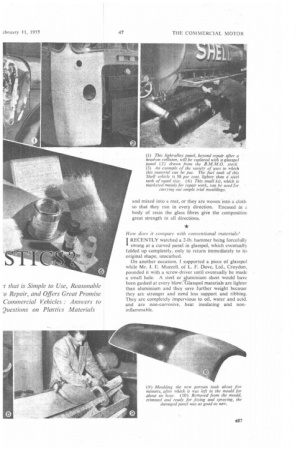 Page 58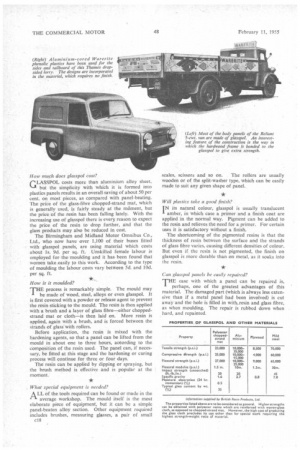 Page 59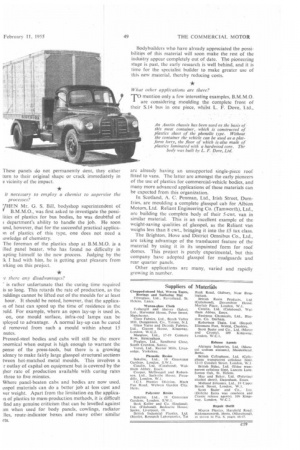 Page 56, 11th February 1955 —
What is This T
Close
By John Savage Called
which is strong in the longitudinal direction. When treated in this way the glass can be likened to a chain. It will readily distend sideways but not along its axis.
The same effect is produced in the other method, which attenuates the strands in a fast stream of gas. The glass strands are then chopped into short lengths
1 that is Simple to Use, Reasonable 'a Repair, and Offers Great Promise Commercial Vehicles : Answers to 2liestions on Plastics Materials
How does it compare with conventional materials?
I RECENTLY watched a 2-lb. hammer being forcefully swung at a curved panel in glasspol, which eventually folded up completely, only to return immediately to its original shape, unscathed.
On another occasion, I supported a piece of glasspc_41 while Mr. J. F, Muzzell, of L. F. Dove, Ltd., Croydon, pounded it with a screw-driver until eventually he made a small hole. A steel or aluminium sheet would have been gashed at every blow, Glasspol materials are lighter than aluminium and they save further weight because they are stronger and need less support and ribbing. They are completely impervious to oil, Water and acid, and are non-corrosive, heat insulating and noninflammable. Now much does glasspol cost?
GLASSPOL costs more than aluminium alloy sheet, but the simplicity with which it is formed into plastics panels results in an overall saving of about 50 per cent. on most pieces, as compared with panel-beating. The price of the glass-fibre chopped-strand mat, which is generally used, is fairly steady at the moment, but the price of the resin has been falling lately. With the increasing use of glasspol there is every reason to expect the price of the resin to drop further, and that the glass products may also be reduced in cost.
The Birmingham and Midland Motor Omnibus Co., Ltd., who now have over 1,100 of their buses fitted with glasspol panels, are using material which costs about ls. 9d. per sq. ft. Unskilled female labour is employed for-the moulding and it has been found that women take easily to this work. According to the type of moulding the labour costs vary between 5d. and 10d. per sq. ft.
How is it moulded?
THE process is remarkably simple. The mould may I be made of wood, steel, alloys or even glasspol. it is first covered with a powder or release agent to prevent the resin sticking to the mould. The resin is then applied with a brush and a layer of glass fibre—either choppedstrand mat or cloth—is then laid on. More resin is applied, again with a brush, and is forced between the strands of glass with rollers.
Before application, the resin is mixed with the hardening agents, so that a panel can be lifted from the mould in about one to three hours, according to the composition of the resin used. The panel can, if necessary, be fitted at this stage and the hardening or curing process will continue for three or four days.
The resin can be applied by dipping or spraying, but the brush method is effective and is popular at the moment.
What special equipment is needed?
ALL of the tools required can be found or made in the average workshop. The mould itself is the most elaborate piece of equipment, but it can be a simple panel-beaten alloy section. Other equipment required includes brushes, measuring glasses, a pair of small
c18 scales, scissors and so on. The rollers are usually wooden or of the split-washer type, which can he easily made to suit any given shape of panel.
Will plastics take a good finish?
I N its natural colour, glasspol is usually translucent amber, in which case a primer and a finish coat are applied in the normal way. Pigment can be added to the resin and relieves the need for a primer. For certain uses it is satisfactory without a finish.
The shortcoming of the pigmented resins is that the thickness of resin between the surface and the strands of glass fibre varies, causing different densities of colour. But even if the resin is not pigmented, the finish on glasspol is more durable than on metal, as it soaks into the resin.
Can glasspol panels he easily repaired?
THE ease with which a panel can be repaired is,
perhaps, one of the greatest advantages of this material. The damaged part (which is always less extensive than if a metal panel had been involved) is cut away and the hole is filled in with resin and glass fibre, as when moulding. The repair is rubbed down when hard, and repainted.
it necessary to employ a chemist to supervise the processes?
7HEN Mr. G. S. Bill, bodyshop superintendent of B.M.M.O., was first asked to investigate the possifides of plastics for bus bodies, he was doubtful of ; department's ability to handle the job. He soon mid, however, that for the successful practical applica)n of plastics of this type, one does not need a Lowledge of chemistry.
The foreman of the plastics shop at B.M.M.O, is a ilied panel beater, who has found no difficulty in apting himself to the new process. Judging by the [k I had with him, he is getting great pleasure from rking on this project.
there any disadvantages?
is rather unfortunate that the curing time required is so long. This retards the rate of production, as the 31.ildings cannot be lifted out of the moulds for at least hour. It should be noted, however, that the applicaa of heat can speed up the time of residence in the )uld. For example, where an open lay-up is used in, on, one mould surface, infra-red lamps can be iployed to advantage. A normal lay-up can be cured
d removed from such a mould within about 15 flutes.
Pressed-steel bodies and cabs will still be the more Dnomical when output is high enough to warrant the pense of the press-tools, but there is a growing idency to make fairly large glasspol structural sections tween hot-matched metal moulds., This involves a r outlay of capital on equipment but is covered by the her rate of production available with curing rates three to five minutes.
Where panel-beaten cabs and bodies are now used. tsspol materials can do a better job at less cost and lifer weight. Apart from the limitation on the applican of plastics to mass-production methods, it is difficult find any genuine criticism that can be levelled against .mt when used for body panels, cowlings, radiator lies, route-indicator boxes and many other similar rts. Bodybuilders who have already appreciated the possibilities of this material will soon make the rest of the industry appear completely out of date. The pioneering stage is past, the early research is well behind, and it is time for the specialist builder to make greater use of this new material, thereby reducing costs.
What other applications are there?
TO mention only a few interesting examples, B.M.M.O. are considering moulding the complete front of their S.14 bus in one piece, whilst L. F. Dove, Ltd.,
are already having an unsupported single-piece roof fitted to vans. The latter are amongst the early pioneers of the use of plastics for commercial-vehicle bodies, and many more advanced applications of these materials can be expected from this organization.
In Scotland, A. C. Penman, Ltd., Irish Street, Dumfries, are moulding a complete glasspol cab for Albion Motors, Ltd. Reliant Engineering Co. (Tamworth), Ltd., are building the complete body of their 5-cwt. van in similar material. This is an excellent example of the weight-saving qualities of glasspol, as the Reliant van weighs less than 8 cwt., bringing it into the £5 tax class.
The Brighton, Hove and District Omnibus Co., Ltd., are taking advantage of the translucent feature of the material by using it in its unpainted form for roof domes. This project is purely experimental, but this company have adopted glasspol for mudguards and rear quarter panels.
Other applications are many, varied and rapidly growing in number.