Alloy Bodies by Specialists
11th February 1955
Page 55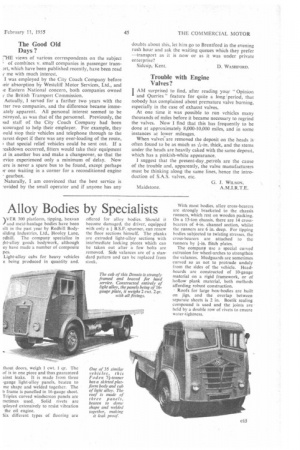 Page 56
Page 55, 11th February 1955 —
Alloy Bodies by Specialists
Close
VER 300 platform, tipping, boxvan /and meat-haulage bodies have been tilt in the past year by Redhill Bodyaiding Industries, Ltd., Hooley Lane, edhill. The company specialize in ;ht-alloy goods bodywork, although ey have made a number of composite pes.
Light-alloy cabs for heavy vehicles e being produced in quantity and.
thout doors, weigh I cwt. 1 qr. The of is in one piece and thus guaranteed ainst leaks. It is made from three -gauge light-alloy panels, beaten to me shape and welded together. The b frame is panelled in 16-gauge sheet. Triplex curved windscreen panels are metimes used.. Solid rivets are iployed extensively to resist vibration the oil engine.
Six different types of flooring arc
offered for alloy bodies. Should it become damaged, the driver, equipped with only a 1 B.S.F. spanner, can renew the floor sections himself. The planks are extruded light-alloy section f with intermediate locking pieces which can be taken out after a few bolts are removed. Side valances arc of a standard pattern and can be replaced from stock.
With most bodies, alloy cross-bearers are strongly bracketed to the chassis runners, which rest on wooden packing. On a 15-ton chassis, there are 14 crossbearers of 4-in, channel section, whilst the runners arc 6 in. deep. For tipping bodies subjected to twisting stresses, the cross-bearers are attached to the runners by flitch plates.
The company use a special curved extrusion for wheel-arches to strengthen the valances. Mudguards are sometimes curved so as not to protrude unduly from the sides of the vehicle. Headboards are constructed of 10-gauge material on a rigid framework, or of hollow plank material, both methods affording robust construction.
Roofs for large box-bodies are built on jigs, and the overlap between separate sheets is 2 in. Bostik scaling compound is used and the joints are held by a double row of rivets to ensure water-tightness.
WHETHER an ashtray or a vehicle body is made of plastics, the material is, to most people, a substance which is used as a cheap substitute for the traditional. The reason is that the name " plastics " can be applied to so many materials. Within a few years, however, the different types of plastics will be as familiar as the many metals which are in use, and the qualities which suit them to particular jobs will then be fully appreciated.
Plastics such as those used for toys are not, of course, at all like those incorporated in commercial-vehicle bodies, yet several proprietary materials of the kinds in general domestic use, especially in laminated sheet form, have been satisfactorily employed for internal panelling and trimming.
A few complete bodies have been constructed in these materials, including a meat container, a flat platform and a drop-sider. Plastics enable the construction of strong, durable and exceptionally hygienic bodies, but are comparatively costly and, at the moment, they are
generally limited to food-carrying vehicles. These materials make use of a phenolic resin which is hardened
• under high temperature and pressure in a mould which is usually very expensive.
During the war a resin was developed which sets hard without the need for high pressure or temperature, and it is this which offers great possibilities in the commercialvehicle industry. I have, therefore, asked some questions on behalf of the manufacturer and bodybuilder, the answers to which may also interest operators who will soon be asked to use vehicles made partly of plastics.
What is this new material?
THE resins used are called polyester resins and are made extremely strong by reinforcing them with glass fibres. As the glass fibre and the resins are obtained from different sources, the final composite material has +not been given a trade or general name and it is usually known as glass-fibre reinforced polyester resin.
This is one of the more simple of the many complex expressions used by the plastics chemists who, I am sure, have retarded the application of these materials by unnecessarily baffling the laity with science, chemical equations and long words. For the purpose of this article I am, therefore, going to call this product "glasspol" and thus avoid further use of chemical expressions.
The resins are supplied by synthetic-resin manufac• turcrs who specialize in their production. Their names and addresses appear at the end of this article. I am c16 indebted to British Resin Products, Ltd., for much of my technical knowledge of the subject.
They are prepared by reacting certain so-called polyhydric alcohols with poly-basic acids, giving polyesters. Before these resins will set or cure, certain chemicals must be added. These are usually supplied by the resin manufacturer, who may also recommend certain fillers to improve the workability of the resin.
Many different materials can be used to reinforce the resin, including paper, linen and asbestos, but glass fibres have so far proved to be the most effective, as they are extremely strong and resistant to heat, corrosion and saturation. The fibres are produced by two methods. In one a glass marble is melted and forced through a fine hole in a nozzle to produce a slender thread. This is stretched as it cools, giving it a mechanical structure.