Wheel-wobble and Its Cure
11th February 1955
Page 54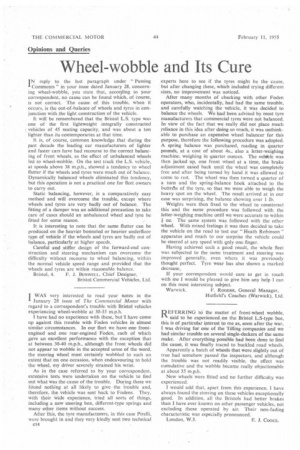 Page 54, 11th February 1955 —
Wheel-wobble and Its Cure
Close
TN reply to the last paragraph under "Passing Comments" in your issue dated January 28, concern
ing wheel-wobble, you state that, accorping to your correspondent, no cause can be found which, of Course, is not correct. The cause of this trouble, when it occurs, is the out-of-balance of wheels and tyres in conjunction with.the light construction of the vehicle.
It will be remembered that the Bristol L.S. type wa.s one of the first lightweight integrally constructed vehicles of 45 seating capacity, and was about a ton lighter than its contemporaries at that time.
It is, of course, common knowledge that during the past decade the leading car manufacturers of lighter and faster cars have had recourse to the correct balancing of front wheels, as the effect of unbalanced wheels led to wheel-wobble. On the test track the L.S. vehicle, at speeds above 38 m.p.h., showed a tendency to wheel flutter if the wheels and tyres were much out of balance. Dynamically balanced wheels eliminated this tendency, but this operation is not a practical one for fleet owners to carry out.
Static balancing, however, is a comparatively easy method and will overcome the trouble, except where wheels and tyres are very badly out of balance. The fitting of a damper was an additional precaution to take care of cases should an unbalanced wheel and tyre be fitted for some reason.
It is interesting to note that the same flutter can be produced on the heavier bonneted or heavier underfloor type of vehicle if the wheels and tyres are badly out of balance, particularly at higher speeds.
Careful and stiffer design of the forward-end construction and Steering mechanism can overcome the difficulty without recourse to wheel balancing, within the normal vehicle speed range and provided that the wheels and tyres are within reasonable balance.
Bristol, 4. F. J. BUSWELL, Chief Designer,
Bristol Commercial Vehicles, Ltd.
I WAS very interested to read your notes in the January 28 issue of The Commercial Motor with regard to a correspondent's trouble with Bristol vehicles experiencing wheel-wobble at 30-35 m.p.h.
I have had no experience with these, but'I have come up against this trouble with Foden vehicles in almost similar circumstances. In our fleet we have one frontengined and one rear-engined Foden, each of which gave an excellent performance with the exception that at between 30-40 m.p.h., although the front wheels did not appear to wobble in the accepted sense of the word, the steering wheel most certainly wobbled to such an extent that on one occasion, when endeavouring to hold the wheel, my driver severely strained his wrist.
As in the case referred to by your correspondent, extensive tests were undertaken on the vehicle to find out what was the cause of the trouble. During these we found nothing at all likely to givethe trouble and, therefore, the vehicle was sent back to Fodens. They, with their wide experience, tried all sorts of things, including a new steering box, different-type springs and many other items without success.
After this, the tyre manufacturers, in this case Pirelli. were brought in and they very kindly sent two technical c14 experts here to see if the tyres might be the cause, but after changing these, which included trying different sizes, no improvement was noticed.
After many months of checking with other Foden operators, who, incidentally, had had the same trouble, and carefully watching the vehicle, it was decided to balance the wheels. We had been advised by most tyre manufacturers that commercial tyres were not balanced. In view of the fact that we really did not place much reliance in this idea after doing so much, it was unthinkable to purchase an expensive wheel balancer for this purpose, therefore the following procedure was adopted. A spring balance was purchased, reading in quarter pounds, at a cost of about 4s., also a letter-weighing machine, weighing in quarter ounces. The vehkle was then jacked up, one front wheel at a time, the brake adjustment eased back until the wheel was completely free and after being turned by hand it was allowed to come to rest. The wheel was then turned a quarter of a turn and the spring-balance hook attached to the buttrAs of the tyre, so that we were able to weigh the heavy spot on the wheel. The result arrived at in our case was surprising, the balance showing over 1 lb.
Weights were then fixed to the wheel to counteract this and the same procedure was followed with the letter-weighing machine until we were accurate to within oz. The same system was followed with the other wheel. With mixed feelings it was then decided to take the vehicle on the road to test our "Heath Robinson " apparatus and much to our surprise the vehicle could be steered at any speed with gnly one finger.
Having achieved such a good result, the whole fleet was subjected to the same treatment and steering was improved generally, even where it was previously thought perfect. Tyre wear has also shown a marked decrease, If your correspondent would care to get in touch with me I would be pleased to give him any help I can on this most interesting subject.
Warwick. F. ROGERS, General Manager, Hutfield's Coaches (Warwick), Ltd.
REFERRING to the matter of front-wheel wobble, said to be experienced on the Bristol L.S-type bus, this is of particular interest to me as, soon after the war, 1 was driving for one of the Tilling companies and we had similar trouble on several single-deckers of the same make. After everything possible had been done to find the cause, it was finally traced to buckled road wheels.
Apparently a batch of wheels that were slightly out of true had somehow passed the inspectors, and although the trouble was not readily visible, the effect was cumulative and the wobble became really objectionable at about 35 m.p.h.
New wheels were fitted and no further difficulty was experienced. .
I would add that, apart from this experience, I have always found the steering on these vehicles exceptionally good. In addition, all the Bristols had better brakes than I have ever known on other passenger vehicles, not excluding those operated by air. Their non-fading characteristic was especially pronounced.
London, W.3. E. J. COOKE.