B.C.C. Want Joint Eaulage Companies
11th February 1955
Page 49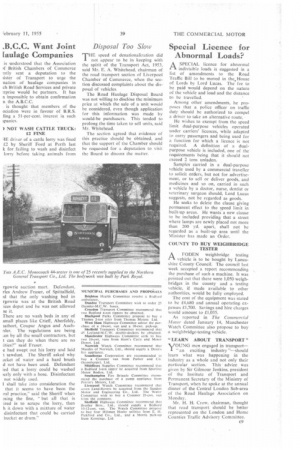 Page 49, 11th February 1955 —
B.C.C. Want Joint Eaulage Companies
Close
is understood that the Association if British Chambers of Commerce mtly sent a deputation to the lister of Transport to urge the nation of haulage companies in ch British Road Services and private :rprise would be partners. It has • impossible to obtain confirmation n the A.B.C.C.
is thought that members of the °elation were in favour of B.R.S. ling a 51-per-cent. interest in such tpanies.
) NOT WASH CATTLE TRUCK: 12 FINE -IE drirer of a cattle lorry was fined £2 by Sheriff Ford at Perth last k for failing to wash and disinfect lorry before taking animals from rgovaie auction mart. Defendant, ✓ ies Andrew Fraser, of Spittalfield, id that the only washing bed in rgowrie was at the British Road ices depot and he was not allowed se it.
There arc no wash beds in any of small places like Crieff, Aberfeldy, iathort, Coupar Angus and Auchrder. The regulations are being .en by all the small contractors, but t can they do when there arc no Lities?" said Fraser.
e had swept out his lorry and laid sawdust. The Sheriff asked why ucket of water and a hard brush d not have been used. Defendant ied that a lorry could be washed ierly only with a hose. Disinfectant not widely used.
I shall take into consideration the that it seems to have been the ral practice," said the Sheriff when ming the fine, " but all that is ired is to scrape the lorry, then h it down with a mixture of water disinfectant that could be carried bucket or drum."
Disposal Too Slow
THE speed of denationalization did not appear to be in keeping with the spirit of the Transport Act, 1953, said Mr. E. A. Whitehead, chairman of the road transport section of Liverpool Chamber of Commerce, when the section discussed complaints about the disposal of vehicles.
The Road Haulage Disposal Board was not willing to disclose the minimum price at which the sale of a unit would be considered, even though application for this information was made by would-be purchasers. This tended to prolong the time taken to sell units, said Mr. Whitehead.
The section agreed that evidence of this practice should be obtained, and that the support of the Chamber should he requested for a deputation to visit the Board to discuss the matter.