Ratepayers Oppose Mr. Short's Bill
11th February 1955
Page 43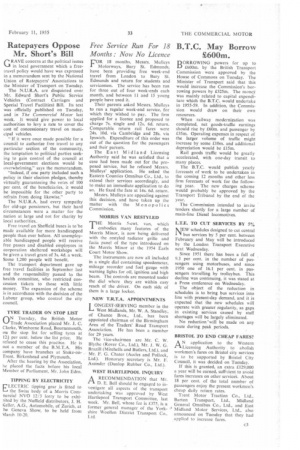 Page 43, 11th February 1955 —
Ratepayers Oppose Mr. Short's Bill
Close
r_RAVE concern at the political issues in local government which a freetravel policy would have was expressed in a memorandum sent by the National Union of Ratepayers' Associations to the Minister of Transport on Tuesday. The N.U.R.A. are disquieted over Mr. Edward Short's Public Service Vehicles (Contract Carriages and Special Travel Facilities) Bill. Its text was officially published on Tuesday,
and in The Commercial Motor last week. It would give power to local authorities to levy a rate to cover the cost of concessionary travel on municipal vehicles,
"If it were once made possible for a council to authorize free travel to any particular section of the community, the temptation to political parties seeking to gain control of the council at local-government elections would be overwhelming," says the memorandum.
"Indeed, if one party included such a policy in their election pledges, thereby virtually guaranteeing the votes of 100 per cent. of the beneficiaries, it would be impossible for the other party to refrain from doing likewise."
The N.U.R.A. had every sympathy for old-age pensioners, but their hard circumstances were a matter for the nation at large and not for charity by local authorities.
Free travel on Sheffield buses is to'be made available for more handicapped people than ever before. All unemployable handicapped people will receive free passes and disabled employees in corporation sheltered workshops will be given a travel grant of 3s. 4d. a week. Some 1,200 people will benefit.
The transport department gave up free travel facilities in September last and the responsibility passed to the health committee, who restricted concession tickets to those with little money. The expansion of the scheme is in accordance with the decision of the Labour group, who control the city council.
TYRE TRADER ON STOP LIST (IN Tuesday, the British Motor %-/Trade Association placed Mr. J. C. Clarke, Wimborne Road, Bournemouth, on the stop list for selling tyres at 124 per cent, below the list price. He refused to cease this practice. He is not a member of the B.M.T.A. His company have branches at Stoke-onTrent, Birkenhead and Plymouth.
After the hearing by the Association, he placed the facts before his local liefember of Parliament, Mr. John Eden.
TIPPING BY ELECTRICITY
CLECTRIC tipping gear is fitted to I-4 the Swiss body of a Morris Comnercial NVO 1213 lorry to be exhi)ited by the Nuffield distributors, J. H. Keller, A.G., Automobile, of Zurich, at he Geneva Show, to be held from 41arch 10-20.