The Last Straw
11th February 1955
Page 40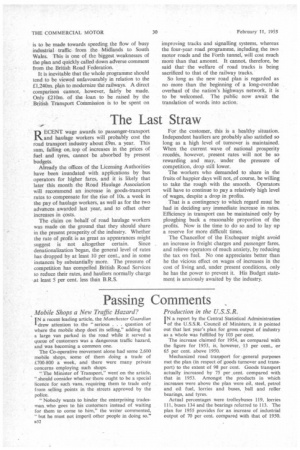 Page 40, 11th February 1955 —
The Last Straw
Close
RECENT wage awards to passenger-transport and haulage workers will probably cost the road transport industry about Sm. a year. This sum, falling on.. top of increases in the prices of fuel and tyres, cannot be absorbed by present budgets. Already the offices of the Licensing Authorities have been inundated with applications by bus operators for higher fares, and it is likely that later this month the Road Haulage Association will recommend an increase in goods-transport rates to compensate for the rise of 10s. a week in the pay of haulage workers, as well as for the two advances awarded last year, and to offset other increases in costs.
The claim on behalf of road haulage workers was made on the ground that they should share in the present prosperity of the industry. Whether the rate of profit is as great as appearances might suggest is not altogether certain. Since denationalization 'began, the general level of rates has dropped by at least 10 per cent., and in some instances by substantially more. The pressure of competition has compelled British Road Services to reduce their rates, and hauliers normally charge at least 5 per cent. less than B.R.S. For the customer, this is a healthy situation. Independent hauliers are probably also satisfied so long as a high level of turnover is maintained. When the current wave of national prosperity recedes, however, present rates will not be so rewarding and may. under the pressure of competition, drop still lower.
The workers who demanded to share in the fruits of happier days will not, of course, be willing to take the rough with the smooth. Operators will have to continue to pay a relatively high level of wages, despite a drop in profits.
That is a contingency to which regard must be had in deciding any immediate increase in rates. Efficiency in transport can be maintained only by ploughing back a reasonable proportion of the profits. Now is the time to do so and to lay up a reserve for more difficult times.
The Chancellor of the Exchequer might avoid an increase in freight charges and passenger fares, and relieve operators of much anxiety, by reducing the tax on fuel. No one appreciates better than he the vicious effect on wages of increases in the cost of living and, under present conditions, only he has the power to prevent it. His Budget statement is anxiously awaited by the industry.