Passing Comments .
11th February 1955
Page 40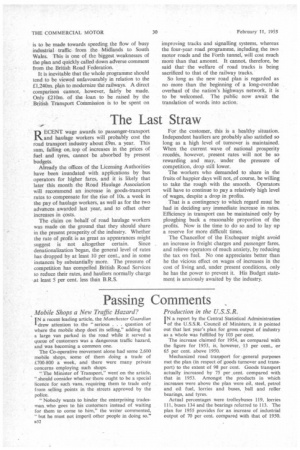 Page 41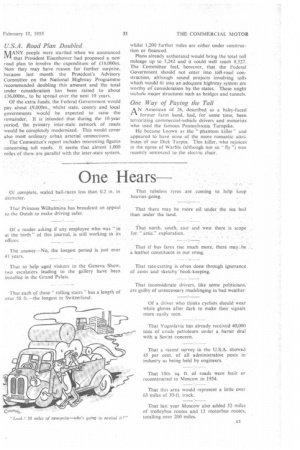 Page 40, 11th February 1955 —
Passing Comments .
Close
Mobile Shops a New Traffic Hazard? Production in the U.S.S.R.
IN a recent leading article, the Manchester Guardian 'drew attention to the "serious . . question of where the mobile shop does its selling," adding that a large van parked in the road while it served a queue of customers was a dangerous traffic hazard, and was becoming a common one.
The Co-operative movement alone had some 2,600 mobile shops, some of them doing a trade of £700-800 a week, and there were many private concerns employing such shops.
"The Minister of Transport," went on the article, "should consider whether there ought to be a special licence for such vans, requiring them to trade only from selling points in the streets approved by the police.
"Nobody wants to hinder the enterprising tradesman who goes to his customers instead of waiting for them to come to him," the writer commented, " but he must not imperil other people in doing so." B32 IN a report by the Central Statistical Administration I of the U.S.S.R. Council of Ministers, it is pointed out that last year's plan for gross output of industry as a whole was fulfilled by 103 per cent.
The increase claimed for 1954, as compared with the figure for 1953, is, however, 13 per cent., or 65 per cent. above 1950.
Mechanized road transport for -general purposes met the plan (in respect of goods turnover and transport) to the extent of 98 per cent. Goods transport actually increased by 75 per cent. compared with that in 1953. Amongst the products in which increases were above the plan were oil, steel, petrol and oil fuel, lorries and buses, ball and roller bearings, and tyres.
Actual percentages were trolleybuses 119, lorries Ill, buses 134 and the bearings referred to 113. The plan for 1955 provides for an increase of industrial output of 70 per cent. compared with that of 1950.
U.S.A. Road Plan Doubled
MANY people were startled when we announced that President Eisenhower had proposed a new road plan to involve the expenditure of R18,000m. Now they may have reason for further surprise, because last month the President's Advisory Committee on the National Highway Programme recommended doubling this amount and the total under consideration has been raised to about £36,000m., to be spread over the next 10 years.
Of the extra funds, the Federal Government would pay about £9,000rn.,. whilst state, county and local governments would be expected to raise the remainder. It is intended that during the 10-year period, the primary inter-state network of roads would-be completely modernized. This would cover also mot ordinary urban arterial connections.
The Committee's report includes interesting figures concerning toll roads. It seems that almost 1,000 miles.of these are parallel with the inter-state system,
whilst 1,200 further miles are either under construction or financed.
Plans already authorized would bring the total toll mileage up to 5,242 and it could well reach 8.527. The Committee feel, however, that the Federal Government should not enter • into toll-road construction, although sound projects involving tolls which would fit into an adequate highway system ate worthy or consideration by. the -states. These might include major structures such as bridges and tunnels.
One Way of Paying the Toll
AN American of 26, described as a baby-faced former farm hand, had, for some time, been terrorizing commercial-vehicle drivers and motorists Who used the famous Pennsylvania Turnpike. He beeame known as the "phantom killer and appeared to have none of the more romantic attributes of our Dick Turpin. This killer, who rejoices in the name of Warble (although not so "fly ") was recently sentenced to the electric chair.