WHAT CAUSED LONDON BUS EXPLOSION?
11th February 1949
Page 7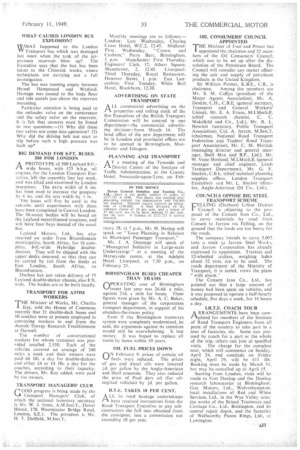 Page 7, 11th February 1949 —
WHAT CAUSED LONDON BUS EXPLOSION?
Close
Keywords :
MHAT happened to the London VI' Transport bus which was damaged last week when the tank of the airpressure reservoir blew up? The Executive says that the bus has been taken _to the Chiswick works, where technicians are carrying out a full investigation.
The bus was running empty between Hemel Hempstead and Watford. Damage was caused to the body floor and side panels just above the reservoir mounting.
Particular attention is being paid to the unloader valve on the compressor and the safety valve on the reservoir. It is felt that answers must be found to two questions:—(1) Why did these two valves not come into operation? (2) Why did the driving belt not start to slip before such a high pressure was built up?
BIG DEMAND FOR 8-FT. BUSKS": 500 FOR LONDON
APROTOTYPE of 500 Leyland 8-ft,wide buses, with 125 b.h.p. oil engines, for the I.ondon Transport Executive, left the assembly line last week, and was tilted and examined by London inspectors. The extra width of 6 ins. has been used to increase the gangway by 4 ins, and the seat width by I in.
The buses will first be used in the suburbs until experiments with them have been completed in Central London. The 56-seater bodies will be based on the Leyland metal-framed structure, and will have four bays instead of the usual five,
Leyland Motors, Ltd., has also receivedan order from Bloemfontein municipality, South Africa, for 16 complete, 8-ft.-wide Hybridge doubledeckers. They will be shipped with the upper decks removed, so that they can be carried by rail from the docks at East London, South Africa, to Bloemfontein.
Durban has just taken delivery of 75 Leyland double-decker chassis,also 8 ft. wide. The bodies are to be built locally.
TRANSPORT FOR ATOM WORKERS
THE Minister of Works, Mr. Charles
Key, told the House of Commons recently that 21 double-deck buses and 50 coaches were at present employed in conveying workers to and I rom the Atomic Energy Research Establishment at Harwell, The number of constructional workers for whom transport was provided totalled 2350. Each of the vehicles covered an average of 240 miles a week and their owners were paid £6 10s. a day for double-deckers and either £4 or £4. 10s. a day for the coaches, according to their capacity. The drivers, Mr. Key added, were paid by the owners, TRANSPORT .MANAGERS' CLUB
G00D progress is being made by the Transport Managers' Club, of which the national honorary secretary is Mr. W. J. Irons, A.M.Inst.T., Dover House, 170, Westminster Bridge Road, London, S.E.I. The president is Mr. H. T. Duffield, M.Inst.T.
Monthly meetings are as follows:— London: Last Wednesday, Charing Cross Hotel, W.C.2, 12.45. Midland: First Wednesday, "Crown and Cushion," Perry Barr, Birmingham, 1 p.m. Manchester: First Thursday, Engineers' Club, 17, Albert Square, Manchester, 2, 12.45. Liverpool: Third Thursday, Royal Restaurant, Hanover Street. I p.m. East Lancashire: First Tuesday, White Bull Hotel, Blackburn, 12.30.
ADVERTISING ON STATE TRANSPORT
ALL commercial. advertising on the properties and rolling stock of the five Executives of the British Transport Commission will be centred in one department—the commercial advertising division—from March 14. The head office of the new department will be in London and provincial offices are to be opened in Birmingham, Manchester and Glasgow,
PLANNING AND TRANSPORT
AT a meeting of the Tyneside and District Centre of the Institute of Traffic Administration, at the County Hotel. Newcastle-upon-Tyne, on Feb
ruary 28. at 7 p.m., Mr. H. Fleslop will speak on "Town Planning in Relation to Municipal Passenger Transport."
Mr. J. A. Dunnage will speak of "Managerial Initiative in Large-scale Undertakings" at a meeting of the Merseyside centre; at the Adelphi Hotel, Liverpool, at 7.30 p.m., on February 21.
BIRMINGHAM BUSES CHEAPER THAN TRAMS
OPER AT1NG cost of Birmingham 1.--/trams last year was 26.4d. a mile, against 21d. a mile for buses. These figures were given by Mr. A. C. Baker, general manager of the corporation transport department, in support of his abandon-the-trams policy.
Even if the Birmingham tramways system were completely modernized, he said, the arguments against its retention would still be overwhelming. It lost money. It was hoped to replace all trams by buses within 10 years.
OIL FUEL PRICES DOWN
(IN February 9, prices of certain oil
fuels were reduced. The prices of gas and diesel oils were lowered W. per gallon by the Anglo-American and Shell concerns. They also reduced the price of Pool dery oil (for oilengined vehicles) by 4d. per gallon.
R.T.E. TAKES 10 PER CENT.
ALL its road haulage undertakings have received instructions from the Road Transport Executive to pay subcontractors the full rate obtained from the consignor, less a commission not exceeding 10 per cent.