Nationalization Comes to Eire
11th February 1949
Page 6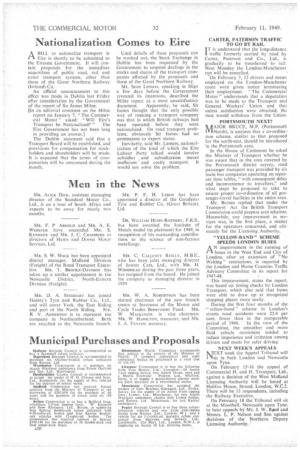 Page 6, 11th February 1949 —
Nationalization Comes to Eire
Close
ABILL to nationalize transport in Eire is shortly to be submitted to the Eireann Government. It will contain proposals -for the immediate acquisition of public road, rail and canal transport systems, other than those of the Great Northern Railway (Ireland) Co.
An official announcement to this effect was made in Dublin last Friday after consideration by the Government of the report of Sir James Milne.
1ln an editorial comment on the Milne report on January 7, The Commercial Motor" asked: " Will Eire's Transport be Nationalized? " The Eire Government has not been long in providing an answer.] The Dublin statement said that a Transport Board will be established, and provisions for compensation for stockholders and shareholders will be made. It is expected that the terms of compensation will be announced during the month. Until details of these proposals can be worked out, the Stock Exchange in Dublin has been requested by the Government to suspend dealings in the stocks and shares of the transport companies affected by the proposals and those of the Great Northern Railway.
Mr. •Sean Lemass, speaking in Sligo a few days before the Government revealed its intentions, described the Milne report as a most unsatisfactory document. Apparently, he said, Sir James thought that the only possible way of running a transport company was that in which British railways had been operated before they were nationalized. On road transport problems, obviously Sir James had no pretensions to expert status.
Inevitably, said Mr. Lemass, nationalization of the kind of which the Eire Labour Party talked would involve subsidies and subsidization meant inefficient and costly transport. It would not solve the problem.