Passing Comments
11th February 1949
Page 2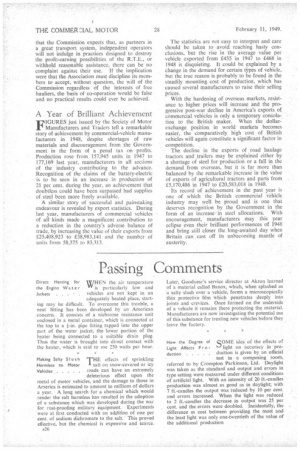 Page 3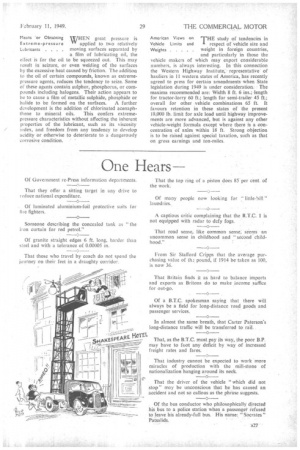 Page 2, 11th February 1949 —
Passing Comments
Close
Direct Heating for WHEN the air temperature
the Engint! Water " is particularly low and
Jackets . . . • . vehicles are not kept in an
adequately heated place, starting may be difficult. To overcome this trouble, a neat fitting has been developed by an American concern. It consists of a nichrorne resistance unit enclosed in a metal container, which is connected at the top to a i-in. Pipe fitting tapped into the upper part of the water jacket, the lower portion of the heater being connected to a suitable drain plug. Thus the water is brought into direct contact with the heater, which is said to use 250 watts per hour.
Making Salty Slush 'THE effects of sprinkling Harmless -to Motor A salt on snow-covered or icy Vehicles . . • roads can have an extremely deleterious effect upon the metal of motor vehicles, and the damage to those in America is estimated to amount to millions of dollars a year. A long search for a chemical which would render the salt harmless has resulted in the adoption of a substance which was developed during the war for rust-proofing military equipment. Experiments were at first conducted with an addition of one per cent. of sodium dichromate to the salt." This proved effective, but the chemical is expensive and scarce.
A26
Later, Goodyear's service director at Akron learned of a material called Banox, which, when splashed as a salty slush over a vehicle, forms a microscopically thin protective film which penetrates deeply into joints and crevices. Once formed on the underside of a vehicle it remains there protecting the material. Manufacturers are now investigating the potential use of this substance for treating new vehicles before they leave the factory.
How the Degree of cOME idea of the effects of Light Affects P r o 1--1 light on accuracy in' pro duction
duction is given by an official test in a composing. root* referred to by Crompton Parkinson, Ltd. Daylight was taken as the standard and output and errors in type setting-were measured under different conditions of artificial light. With an intensity of 20 ft.-candles production was almost as good as in daylight; with 7 ft.-candles the output was reduced by 10 per cent. and errors increased. When the light was reduced to 2 ft.-candles the decrease in output was 25 per cent. and the errors were doubled. Incidentally, the difference in cost between providing the most and the least light was only one-twentieth of the value of the additional production
Means or Obtaining WHEN great pressure is Extreme-pressure " applied to two relatively Lubricants . . moving surface§ separated by
a film of lubricating oil, the effect is for the oil to be squeezed out. This may result in seizure, or even welding of the surfaces by the excessive heat caused by friction. The addition to the oil of certain compounds, known as extremepressure agents, reduces the tendency to seize. Some of these agents contain sulphur, phosphorus, or compounds including halogens. Their action appears to he to cause a film of metallic sulphide, phosphide or halide to be formed on the surfaces. A further development is the addition of chlorinated acenaph
thene to mineral oils. This confers extremepressure characteristics without affecting the inherent properties of the lubricant, such as its viscosity index, and freedom from any tendency to develop acidity or otherwise to deteriorate to a dangerously
corrosive condition. •
American Views on THE study of tendencies in Vehicle Limits and I respect of vehicle size and Weights weight in foreign countries, and particularly in those the vehicle makers of which may export considerable numbers, is always interesting. In this connection the Western Highway Institute-,-. representativeof hauliers in 11 western states of America, has recently agreed to press for certain amendments when State legislation during 1949 is under consideration. • The maxima recommended are: Width 8 ft. 6 ins.; length for tractor-lorry 60 ft.; length for semi-trailer. 45 ft.; overall for other vehicle combinations 65 ft. It favours retention in these states of the present 18,000 lb. limit for axle load until highway improvements are more advanced, but is against any other vehicle-weight formula except where there is a concentration of axles within 18 ft. Strong objection is to be raised against special taxation, such as that on gross earnings and ton-miles.