The Ex-Serviceman Is a Big Post-war Problem
11th February 1944
Page 18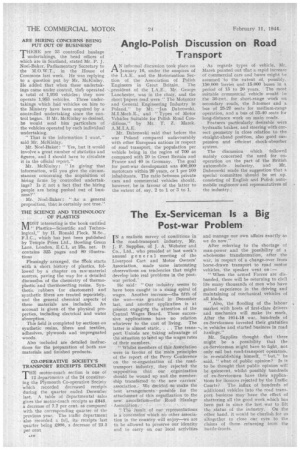 Page 18, 11th February 1944 —
The Ex-Serviceman Is a Big Post-war Problem
Close
IN a realistic survey of conditions in the road-transport industry, Mr. J. F. Supplies, of J. A. Webster and Co" Ltd., who presided at last week's annual general meeting of the Liverpool Cart and Motor Owners' Association, made some interesting observations on tendencies that might develop into real problems in the postwar period.'
He said: " Our induitry seems to have been caught in a rising spiral of wages. Another increase—the fifth of the war—was granted in December last, and another application is at present engaging the attention of the Central Wages Board. These successive applications have no relation whatever to the cost of living. The latter is almost static. . . . The trans--.... port Unions are taking adyantage of the situation to 'etre] up the wages rates of their members.
" Whilst members of this Association were in favour of the main principles of the report of the Perry Conference on the re-organization of the roadtransport industry, they rejected the supposition that our organization should be wound up and the membership transferred to the new carriers' association.: We decided to make the best arrangenients possible for the attachrnent of this organization to the new association—the Road -Haulage • Associa-tion, .
" The result of our representations is a concessionwhich no other association in the country will enjoy—we are to be allowed to preserve our identity and to carry on our local activities
and manage our own affairs exactly as we do now."
After referring to the shortage of man-power and the possibility of a wholesome transformation, after the war, in respect of a change-over from horse-drawn transport to road motor vehicles, the speaker went on:— " When the armed Forces are disbanded, there will be returning to civil life many thousands of men who have gained experience in the driving and maintaining of mechanical Vehicles of all kinds.
"Also, the flooding of the labour market with hosts of first-class drivers and Mechanics will make its mark, After the 1914-18 war, hundreds of ex-Servicemen invested their gratuities in vehicles and started business in road h la ."
Mr. Supplies thought that there might be a possibility that the ex-Serviceman might have to fight, not only rail but road-transport operators, in reestablishing himself, " but," he said, " what of public opinion? Is it to be thought that public opinion 'vill be quiescent, whilst possibly hundreds of ex-Servicemen have their applications for licences rejected by the Traffic
Courts? The influx of hundreds of additional vehicles into the road transport business may have the effect of shattering all the good work which has been put in since the last war to lift
the, status of the industry. On the other hand, it would be churlish for us altogether to close our eyes to the claims of those -returning from the battle-fronts.