Industry and Agriculture in Partnership
11th February 1944
Page 14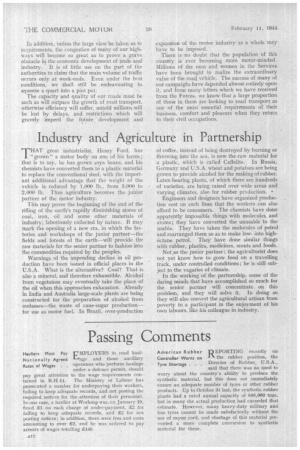 Page 14, 11th February 1944 —
Industry and Agriculture in Partnership
Close
THAT great industrialist, Henry Ford, has I " grown " a motor body on one of his farms ; that is to say, he has grown soya beans, and his chemists have converted them to a plastic material to replace the conventional steel, with the important additional advantage that the weight of the vehicle is reduced by 1,000 lb., from 3,000 to 2,000 lb. Thus agriculture becomes the junior partner of the motor industry.
This may prove the beginning of the end of the rifling of the earth's rapidly diminishing stores of coal, iron, oil and some other materials of industry, laboriously collected by nature. It may mark the opening of a new era, in which the factories and workshops of the junior partner—the• fields and forests of the earth—will provide the raw materials for the senior partner to fashion into the commodities required by the peoples.
Warnings of the impending decline in oil production have been issued in official places in the U.S.A. What is the alternative? Coal? That is also a mineral, and therefore exhaustible. Alcohol from vegetation may eventually take the place of the oil when this approaches exhaustion. Already in India and Australia large-scale plants are being constructed for the preparation of alcohol from molasses—the waste of cane-sugar production— for use as motor fuel. In Brazil, over-production of coffee, instead of being destroyed by burning or throwing into the sea, is now the,raw material for a plastic, which is called Caffelite. In Russia, Germany and U.S.A. wheat and potatoes are being grown to provide alcohol for the making of rubber. Latex-bearing plants, of which there are hundreds of varieties, are being raised over wide areas and varying climates, also for rubber production. • Engineers and designers have organized production cost on such lines that the workers can also afford to be consumers. The chemists have done apparently impossible things with molecules and atoms; they have converted the unusable to the usable. They have taken the molecules of petrol and rearranged them so as to make lowinto highOctane petrol. They have done similar things with rubber, plastics, medicines, scents and foods.
Not_so the junior partner ; the agriculturist does not yet know how to grow food on a travelling track, under controlled conditions; he is still subject to the vagaries of climate.
In the working of the partnership, some of the daring minds that have accomplished so much for the senior partner will concentrate, on this problem, and they will solve it. In doing so• they will also convert the agricultural artisan from poverty to a participant in the enjoyment of his own labours, like his colleague in industry.