Our Despatches from the Front.
11th February 1915
Page 4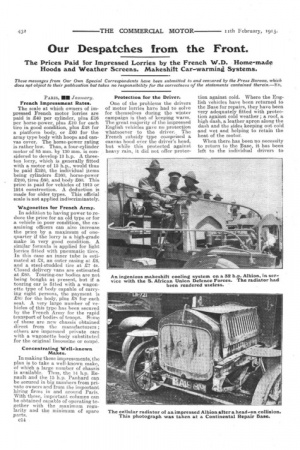 Page 5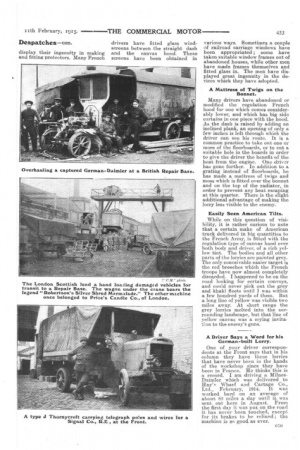 Page 4, 11th February 1915 —
Our Despatches from the Front.
Close
The Prices Paid for Impressed Lorries by the French W.D. Home-madg Hoods and Weather Screens. Makeshift Car-warming" Systems.
These messages from Our Own Special Correspondents have been submitted to and censored by the Press Bureau, which does not object to their publication but takes no responsibility for the correctness of the statements contained therein.—ED, PARIS, ME January. French Impressment Rates. The scale at which owners of impressed French motor lorries are paid is 240 per cylinder, plus 216 per horse-power, plus 210 for each tire in good condition, plus 248 for a platform body, or 260 for the army type body with hoops and canvas cover. The horse-power rating is rather low. Thus, a four-cylinder motor of 85 pane by 130 rem. is considered to develop 13 h.p. A three-. ton lorry, which is generally fitted with a motor of 15 h.p., would thus be paid 2520, the individual items being cylinders 1160, horse-power 2240, tires 160, and body 260. This price is paid for vehicles of 1913 or 1914 construction. A deduction is made for older types. This official scale is not applied indiscriminately.
Wagonettes for French Army.
In addition to having power to reduce the price for an old type or for a vehicle in poor condition, the examining officers can also increase the price by a maximum of onequarter if the lorry is a high-grade make in very good condition. A similar formula is applied for light lorries fitted with pneumatic tires. In this case an inner tube is estimated at 22, an outer casing at 26, and a steel-studded tire at 27 4s. Closed delivery vans are estimated at 180. Touring-car bodies are not being bought at present, but if a touring ear is fitted with a wagonette type of body capable of carrying eight persons, the payment is 180 for the body, plus 28 for each seat. A very large number of vehicles of this type has been secured by the French Army for the rapid transport of bodies of troops. Some of these are new chassis obtained direct from the manufacturers ; others are impressed private cars with a wagonette body substituted for the original limousine or coupe.
Concentrating Well-known Makes.
In making these impressments, the plan is to take a well-known make, of which a large number of chassis is available. Thus, the 14 hp. Renault and the 15 h.p. Panhard can be secured in big numbers from private owners ancr from the important hiring firms in and around Paris. With these, important columns can be obtained capable of operating together with the maximum regularity and the minimum of spare parts. Protection for the Driver.
One of the problems the drivers of motor lorries have had to solve for themselves during the winter campaign is that of keeping warm. The great majority of the impressed English vehicles gave no protection whatsoever • to the driver. The French subsidy type comprised a canvas hood over the driver's head, but while this protected against heavy rain, it did not offer protec
tion against cold. Where the English vehicles have been returned to the Base for repairs, they have been very adequately fitted with protection against cold weather ; a roof, a high dash, a leather apron along the dash and the sides keeping out cold and wet and helping to retain the heat of the motor.
When there has been no necessity to return to the Base, it has been left to the individual drivers to display their ingenuity in making and fitting protectors. Many French drivers have fitted glass windscreens between the straight dash and the canvas hood. These screens have been obtained in various ways. Sometimes a couple of railroad carriage windows have been appropriated ; some have taken suitable window frames out of abandoned houses, while other men have made frames themselves and fitted glass in. The men have displayed great ingenuity in the devices which they have adopted.
A Mattress of Twigs on the Sonnet.
Many drivers have abandoned or modified the regulation French hood for one which comes considerably lower, and which has big side curtains in one piece with the hood. As the dash is raised by adding an inclined plank, an opening of only a few inches is left through which the. driver can see his route. It is a common practice to take out one or more of the floorboards, or to cut a suitable hole in the boards in order
to . the driver the benefit-of the heat from the engine. One drivar has gone further. In addition to a grating instead of floorboards, he has made a mattress of twigs and moss which is fitted over the bonnet and on the top of the radiator, in order to prevent any heat escaping at this quarter. There is the slight additional advantage of making the lorry less visible to the enemy.
Easily Seen American Tilts.
While on this question of visibility, it is rather curious to note that a certain make of American truck delivered in big quantities to the French Army, is fitted with the regulation type of canvas hood over both body and driver, of a rich yellow tint. The bodies and all other parts of the lorries are painted grey. The only conceivable easier target is the red breeches which the French troops have now almost completely discarded. I happened to he on the road looking for certain convoys, and could never pick out the grey and khaki fleets until I was within a few hundred yards of them. But a long line of yellow was visible two miles away. At short range the grey lorries melted into the surrounding landscape, but that line of yellow canvas was a crying invitation to the enemy's guns.
A Driver Says a Word for his German-built Lorry.
One of your driver correspondents at the Front says that in his column they have three lorries that have never been in the hands of the workshop since they have been in France. He thinks this is a. record. I am driving a MilnesDaimler which was delivered to Hay',,, Wharf and Cartage Co., Ltd., February, 1914. It was worked hard on an average of about 80 miles a day until it was sent out here in August. From the first day it was put on the road it has never been touched, except for its brakes to be relined ; the machine is am, good. as ever.