Answers to Queries.
11th February 1915
Page 20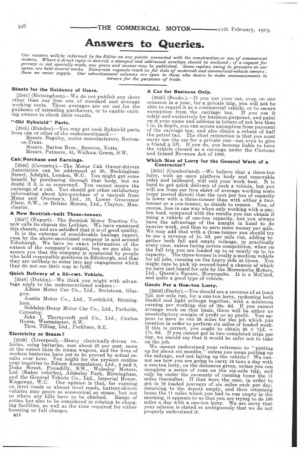 Page 20, 11th February 1915 —
Answers to Queries.
Close
Go; reaaers willibe informed by the Editor on any points connected with the construction or use of commercial motors. Where a direct reply is desired, a stamped and addressed envelope should be enclosed ; if a request for privacy is not specially made, any query and answer may be published. Some replies, owing to pressure on our space, are held several weeks. Numerous requests reach us for lists of motorcab and commercial-vehicle owners. these we never supply. Our advertisement columns are open to those who desire to make announcements to owners for the purposes of trade.
Sheets for the Guidance of Users.
[2544] (Birmingham).—We do not publish any sheet other than our free one of standard and average working costs. These averages are set out for the guidance of intending purchasers, or to enable existing owners to check their results.
"Old Ryknield" Parts.
[2545] (Dundee).—You may get such Ryknield parts from one or other of the undermentioned :— Messrs. Baguley, motor manufacturers, Burtonon-Trent.
Messrs. Barton Bros., Beeston, Notts.
Messrs. Patmore, 45, Walham Green, S.W.
Cab:Purchase and Earnings.
[2546] (Coventry).—The Motor Cab Owner-drivers Association can be addressed at 20, Buckingham Street, Adelphi, London, W.C. You might get some benefit by purchasing through that body, but we doubt if it is so concerned. You cannot insure the earnings of a cab. You should get other satisfactory information about hire-purchase of a taxicab from Mann and Overton's, Ltd., 10, Lower Grosvenor Place, S.W., •or Belsize Motors, Ltd., Clayton, Manchester.
A New Scottish-built Three.tonner.
[2547] (Export).—The Scottish Motor Traction Co. now calls its chassis the Lothian. We have examined this chassis, and are satisfied that it is of good quality. It is the outcome of considerable haulage experience by the above-mentioned company in and around Edinburgh. We have no exact information of the extent of the company's output, but we are able to assure you that the company is conducted by people who hold responsible positions in Edinburgh, and that they are unlikely to enter into any engagement which they do not see their way to fulfil.
Quick Delivery of a 35-cwt. Vehicle.
[2548] (Dublin).—We think you might with advantage apply to the undermentioned makers :
Albion Motor Car Co., Ltd., Scotstoun, Glasgow.
Austin Motor Co., Ltd., Northfield, Birmingham.
Siddeley-Deasy Motor Car Co., Ltd., Parkside, Coventry.
John I. Thornycroft and Co., Ltd., Caxton House, Westminster, S.W.
Thos. Tilling, Ltd., Peckham, S.E.
Electricity or Steam?
[2549] (Liverpool).—Heavy electrically driven vehicles, using batteries, cost about 25 per cent. more at the outset than do steam wagons, and the lives of modern batteries have yet to be proved by actual results over here. You might for the present confine your inquiries to Edison Accumulators, Ltd., 2 and 3, Duke Street, Piccadilly, S.W., Wolseley Motors, Ltd. (Baker vehicles), Adderley Park, Birmingham, and the General Vehicle Co., Ltd., Imperial House, Kingsway, W.C. Our opinion is that, for running on level roads or almost level roads, battery-driven vehicles may prove as economical as steam, but not so where any hills have to be climbed. Range of action has also to be considered in relation to charging facilities, as well as the time required for either boosting or full charges.
614
A Car for Business Only.
[2550] (Bucks.).—If you use your car, even on one occasion in a year, for a private trip, you will not be able to regard it as a commercial vehicle, or to secure exemption from the carriage tax. If you use it solely and exclusively for business purposes, and paint on it your name and address in letters of not less than 1 in. in depth, you can secure exemption from payment of the carriage tax, and also obtain a rebate of half the petrol tax. The chief restriction is that you must never use the car for a private run—not even to give a friend a lift. If you do, you become liable to have the vehicle classed as a carriage under the Customs and Inland Revenue Act of 1888.
Which Size of Lorry for the General Work of a Contractor?
[2551] (Cumberland).—We believe that a three-ton lorry, with an open platform body and removable sides and tailboard, will suit your work best. rt is hard to get quick delivery of such a vehicle, but you will see from our free sheet of average working costs (copy posted direct) that the cost per ton of capacity is lower with a three-tonner than with either a twotonner or a one-tonner, as stands to reason. You, of course, lose in one way when only working with a oneton load, compared with the results you can obtain if using a vehicle of one-ton capacity, but you always have the advantage of the margm in hand to do heavier work, and thus to earn more money per mile. We may add that with a three-tonner you should try to see a revenue of is. 3d. per mile run, adding together both full and empty mileage, in practically every case, unless facing severe competition, when on the full trip you are loaded up to or nearly up to its capacity. The three-tonner is really a medium vehicle for all jobs, running on the heavy side at times. You might care to pick up second-hand a, chassis of which we have just heard for sale by the Morecambe Motors, LW., Queen's Square, Morecambe. It is a McCurd, and quite a good type of vehicle.
Goods Per a One-ton Lorry.
[2552] (Derby).—You should see a revenue of at least Id. per mile run, for a one-ton lorry, reckoning both loaded and light mileage together, with a minimum earning per working day of 32s. 6d. If you cannot arrange work on that basis, there will be either an unsatisfactory margin of profit or no profit. You appear to have to run 28 miles for the job which you mention in order to perform six miles of loaded work. If this is correct, you ought to obtain 28 x 7d.= 17s. 6d. If you cannot get in two completed trips per day, we should say that it would be safer not to take on the job.
We cannot understand your reference to "putting up for about six months," unless you mean putting up the mileage, and not laying up the vehicle ? We cannot see how you are going to carry 12 tons a day with a one-ton lorry, on the distances given, unless you can complete a series of runs on the six-mile trip, and only be under the necessity of running home the 11 miles thereafter. If that were the case, in order to get in 12 loaded journeys of six miles each per day,
returning to the depots empty, and then returning home the 11 miles which you had to run empty in the
morning, it appears to us that you are trying to do 166 miles a day with a. one-ton lorry. We are sorry that your scheme is stated so ambiguously that we do not properly understand it.