Tires That Don't Wear Out.
11th February 1915
Page 2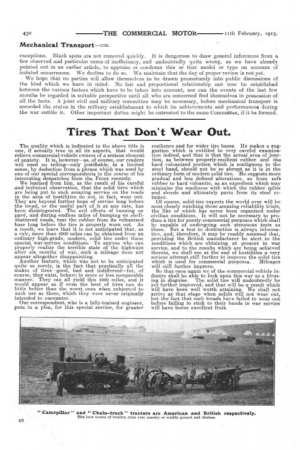 Page 2, 11th February 1915 —
Tires That Don't Wear Out.
Close
The quality which is indicated in the above title is one, if actually true in all its aspects, that would relieve commercial-vehicle owneriof a serious element of anxiety. It is, however—as, of course, our readers will need no telling—only justifiable, in a limited sense, by deduction from a phrase which was used by one of our special correspondents in the course of his interesting despatches from the Front recently. We learned from him, as the result of his careful and technical observation, that the solid tires which are being put to such amazing service on the roads in the area of hostilities do not, in fact, wear out. They are beyond further hope of service long before the tread, or the useful part of it at any rate, has been disintegrated. The evil effects of running on pave, and during endless miles of bumping on shellshattered roads, tear the rubber from its vulcanized base long before the tire is properly worn out. As a result, we learn that it is not anticipated that, as a rule, more than 4000 miles can be obtained from an ordinary high-grade, modern, solid tire under these special, war-service conditions. To anyone who can properly realize the terrible state of the highways after six months of war, such a mileage does not appear altogether disappointing.
Another feature, which was not to be anticipated quite so surely, is the fact that practically all the makes of tires—good, bad and indifferent—for, of course, they exist, behave in more or less comparable inanner. Theycan all yield this 4000 miles, and it would appear as if even the best of tires can do little better than the worst ones when subjected to such use as these, which they were never originally intended to encounter.
Our correspondent, who is a fully-trained engineer, puts in a plea, for this special service, for greater resilience and for wider tire bases. He makes a suggestion which is entitled to very careful examine, tion indeed, and that is that the actual area of junction, as between properly-resilient -rubber and the hard vulcanized portion which is contiguous to the steel band, should not be so abrupt as it is in the ordinary form of modern solid tire. He suggests more gradual and less defined alterations, as from soft rubber to hard vulcanite, as an expedient which may minimize the readiness with which the rubber splits and shreds and ultimately parts from its steel retainer.
Of course, solid-tire experts the world over will be most closely watching these amazing reliability trials, the like of which has never been organized under civilian conditions. It will not be necessary to produce a tire for purely-commercial purposes which shall be capable of undergoing such strenuous tests as these. But a test to destruction is always informative, and, therefore, it may be readily assumed that, providing the British manufacturer be alert, to the conditions which are obtaining at present in war service, and to the results which a-re being achieved therein, we shall see at the end of hostilities a very serious attempt still further to improve the solid tire which is used for commercial purposes. Mileages will still further improve. So that once again we of the -commercial-vehicle industry shall be able to look upon this war as a blessing in disguise. The solid tire will undoubtedly be yet further improved, and that will be a result which will have been well worth attaining. We shall not arrive at that stage when solids will not wear out, but the fact that such treads have failed to wear out before failing to stick to their bands in war service will have borne excellent fruit.