Why Trams Cannot Keep Time.
11th February 1915
Page 18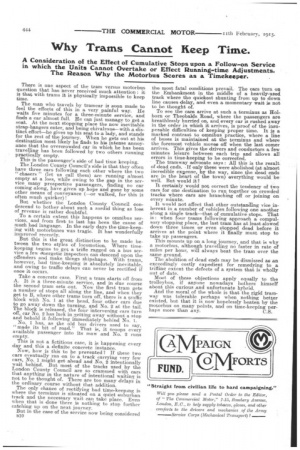 Page 18, 11th February 1915 —
Why Trams Cannot Keep Time.
Close
A Consideration of the Effect of Cumulative Stops upon a Follow-on Service in which the Units Cannot Overtake or Effect Running-time Adjustments. The Reason Why the Motorbus Scores as a Timekeeper.
There is one aspect of the tram versus motorbus question that has never received much attention : it is that with trams it is physically impossible to keep time.
The man who travels by tramcar is soon made to feel the effects of this in a very painful way. He waits five minutes for a three-minute service, and finds a car almost full. He can just manage to get a seat. At. the next stopping place the now inevitable strap-hangers enter, and being chivalrous—with. a distinct effort—he gives up his seat to a lady, and stands for the rest of the journey. When he gets out at his destination most likely he finds to his intense annoyance that the overcrowded car in which he has been travelling has been followed by two others running practically empty.
This is the passenger's aide of bad time keeping. The London County Council's side is that they often have three ears following each other where the two " chasers " (let us call them) are running almost empty at a loss, while owing to the amp in the service many prospective passengers, finding no car coming along, have given up hope and gone by some other means of conveyance (—or walked, for this is often much quicker)!
But whether the London County Council condescend to bother about such a sordid thing as loss of revenue is rather doubtful.
To a certain extent this happens to omnibus services, and from first. to last has been the cause of much bad language. In the early days the time-keeping with motorbuses was tragic. It has wonderfully improved recently. But this is the great distinction to be made between the two styles of locomotion. Where timekeeping begins to get a trifle ragged on a bus service a few energetic inspectors can descend upon the offenders and make things shipshape. With trams, however, had time-keeping is absolutely inevitable, and owing to traffic delays can never be rectified if once it occurs.
Take a concrete case. First a tram starts off from A. It is a three-minute service, and in due course the second tram sets out. Now the first tram gets a number of stops all along the line, and when they get to B, where other trams turn off, there is a traffic block with No. I at the head, four other cars due to go away down the turning, and No. 2 at the tail. The block is released, the four intervening cars turn off, car No. 2 has luck in getting away without a stop and behold it following immediately behind No. I. No. 1 has, as the old bus drivers used to say, "made its bit of road." That is, it scoops every available passenger into its maw and No. 2 runs empty.
This is not a fictitious case, it is happening every day and this a definite concrete instance.
Now, how is this to be prevented? If these two cars eventually ran on to a track carrying very few cars, No. 1 might get ahead and No. 2 intentionally wait behind. But most of the tracks used by the London County Council are so crammed with cars that anything in the nature of intentional waiting is not to be thought of. There are too many delays in the ordinary course without that. addition.
The only chance of rectifying bad time-keeping is where the terminus is situated on a quiet suburban track and the necessary wait can take place. Even when that is done there is nothing to stop further catching up on the next journey. But in the case of the service now being considered ale the most fatal conditions prevail. The cars turn. on the Embankment in the middle of a heavily-used track where the quickest shunting from up to down line causes delay, and even a momentary wait is not to be thought of. To see the cars arrive at such a terminus as Holborn or Theobalds Road, where the passengers are breathlessly hurried on, and every ear is rushed away in the order in which it arrives, is proof of the Mauperable difficulties of keeping proper time. It is a marked contrast to omnibus practice, where a lineof buses is maintained at the terminus and where the foremost vehicle moves off when the last comer arrives. This gives the drivers and conductors a few minutes leisure between each trip and allows all errors in time-keeping to be corrected.
• The tramway advocate says: All this is the result of dead ends. If only these were abolished (at almost incredible exuense by the way, since the dead ends are in the heart of the town) everything would be well. But would it?
It certainly would not correct the tendency of two cars for one destination to run together on crowded tracks where ears are branching off or joining on every minute.
It would not affect that other outstaricTing vice inherent in a number of vehicles following one another along a single track—that of cumulative stops. That is : when four trams following approach a, compulsory stopping place, the last tram has at least slowed down three times or even stopped dead before it arrives at the point where it finally must stop to take up passengers. This mounts up on a long journey, and that is why a motorbus, although travelling no faster in rate of miles per hour, will always beat the tram over the same ground. The abolition of dead ends may be dismissed as an exceedingly costly expedient for remedying to a trifling extent the defects of a system that is wholly out of date.
Most of these objections apply equally to the trolleybus, if anyone nowadays bothers himself about this curious and unfortunate hybrid.
And the moral of the whole is that the rigid tramway was tolerable perhaps when nothing better existed, but that it is now hopelessly beaten by the motorbus on many points, and on time-keeping per
haps more than any. C.S.