The Status of Mechanical Transport in the Military Establishment.
11th February 1915
Page 1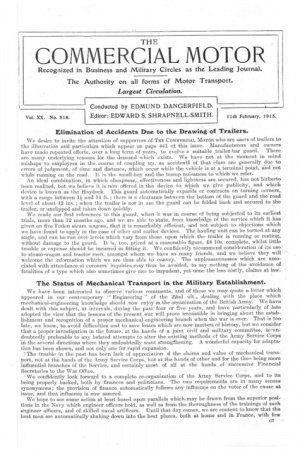 Page 1, 11th February 1915 —
The Status of Mechanical Transport in the Military Establishment.
Close
We have been interested to observe various comments, and of these we may quote a letter which appeared in our contemporary " Engineering " of the 22nd ult., dealing with the place which mechanical-engineering knowledge should now enjoy in the organization of the British Army. We have dealt with this subject, at intervals, during the past four or five yea:1.s, and have particularly of late adopted the view that the lessons of the present war will prove irresistible in bringing about the establishment and recognition of a proper mechanical-engineering branch when the war is over. That is too late, we know,to avoid difficulties and to save losses which are now matters of history, but we consider that a proper investigation in the future, at the hands of a joint civil and military committee, isundoubtedly preferable to any .belated attempts to alter the existing methods of the Army ServiceCorps in the several directions where they undoubtedly want strengtheningA wonderful capacity for adaptation has been shown, and not only one for rapid expansion.
The trouble in the past has been lack of appreciation if the claims and value of mechanical transport, not at the hands of the Army Service Corps, but at the hands of other and for the time, being more influential branches of the Service, and certainly most of all at the hands of successive Financial Secretaries to the War .0ffice.
We confidently look forward to -a complete re-organization of the Army 'Service Corps, and to its being properly backed, both by _finances and .politicians. The two -requirements are in many senses synonymous; the provision of finance automatically follows any influence on the voter of the cause at issue, and that influence is now assured.
We hope to see some action at least based upon parallels which,may be drawn from the superior positions in the Navy which engineer officers hold, as well as from the thoroughness of the trainings of such engineer officers, and of skilled naval artificers. Until that day comes, we are contentto know that the best men are automatically shaking down into the best places. both at home and in France, with few