Elimination of Accidents Due to the Drawing of Trailers.
11th February 1915
Page 1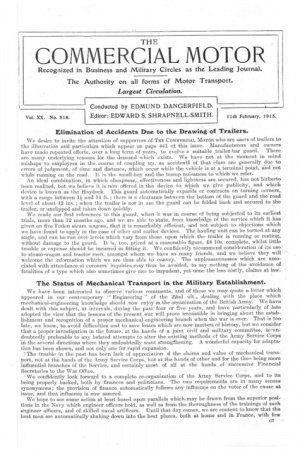 Page 1, 11th February 1915 —
Elimination of Accidents Due to the Drawing of Trailers.
Close
We desire to invite the attention of supporters of TEE COMMERCIAL MOTOR who are users of trailers to -the illbstration and particulars which appear on page 441 of this issue. Manufacturers and owners have made repeated efforts, over a long term of years, to evelve a .suitable ,trailerhar guard. There . are many underlying reasons for the demand which exists. We have not at the moment in mind mishaps to employees in the course of coupling up, as accident g of that class are generally clue. to errors of judgment, of time and distance, which occur while the vehicle is at a terminal point, and not while running on the road. It is the small-boy and, the tramp nuisances to which we refer.
. An ideal combination, in which cheapness" effectiveness and lightness are secured, has not hitherto been realized, but we believe it is now offered in the device to which we give publicity, and which device is known as the Elaydock. This guard automatically expands or contracts on turning corners, with a range between lf and 14 ft. ; there is a clearance between the bottom of the guard and the road level of about 12 ins. ; when the trailer is not in use the guard can be folded back and secured to the • trailer, or unclipped and taken down quickly. We made our first references to this guard, when it was in course of being subjected to its earliest trials, more than 12 months ago, and we are able to state, from knowledge of the service which it hasi given on five Foden steam wagons, that it is remarkably efficient, and not subject to objections which we have found to apply in the case of other and earlier devices. The hauling unit can be turned at any angle, and can be run over levels which vary from those upon which the trailer is running or resting, without damage to the guard. It. is, too, priced at a reasonable figure, 4 10s. complete, whilst little trouble or expense should be incurred in fitting it. We confidently recommend consideration of itsuse. to steam-wagon and tractor men, amongst whom we have so many friends, and we believe they will welcome the information which we are thus able to convey. The unpleasantnesses which are associated with attendance at coroners' inquiries may thus be avoided, to say • nothing of, the avoidance of fatalities of a type which also sometimes give rise to impudent, yet none the less costly, claims at law.