Bombardier bus family clears another hurdle
11th December 1982
Page 54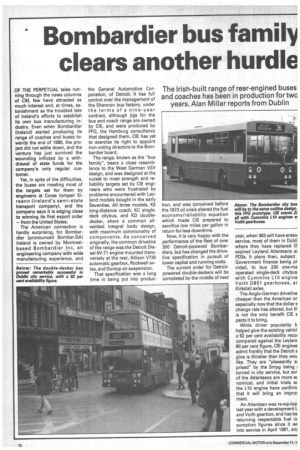 Page 55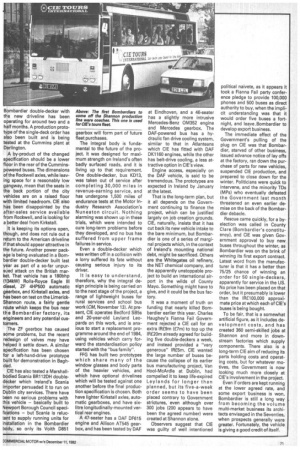 Page 54, 11th December 1982 —
Bombardier bus family clears another hurdle
Close
The Irish-built range of rear-engined buses and coaches has been in production for two years. Alan Millar reports from Dublin
OF THE PERPETUAL tales running through the news columns of CM, few have attracted as much interest and, at times, astonishment as the troubled tale of Ireland's efforts to establish its own bus manufacturing industry. Even when Bombardier (Ireland) started producing its range of coaches and buses towards the end of 1980, the project did not settle down, and the venture has just survived the wounding inflicted by a withdrawal of state funds for the company's only regular customer.
Yet, in spite of the difficulties, the buses are meeting most of the targets set for them by engineers at Coras lompair Eireann (Ireland's semi-state transport company), and the company says it is edging close to winning its first export order — from the United States.
The American connection is hardly surprising, for Bombardier (pronounced Bombar-DA) Ireland is owned by Montrealbased Bombardier Inc, an engineering company with wide manufacturing experience, and the General Automotive Corporation, of Detroit. It has full control over the management of the Shannon bus factory, under the terms of a nine-year contract, although jigs for the bus and coach range are owned by CIE, and were produced by FFG, the Hamburg consultancy that designed them. CIE has yet to exercise its right to appoint non-voting directors to the Bombardier board.
The range, known as the "bus family", bears a close resemblance to the West German VW design, and was designed at the outset to meet strength and reliability targets set by CIE engineers who were frustrated by problems encountered with Leyland models bought in the early Seventies. All three models, KE long-distance coach, KC singledeck citybus, and KD doubledecker, share a common allwelded integral body design, with maximum commonality of components. As conceived originally, the common driveline of the range was the Detroit Diesel 6V-71 engine mounted transversely at the rear, Allison V730 automatic gearbox, Rockwell axles, and Dunlop air suspension.
That specification was a long time in being put into produc tion, and was conceived before the 1973 oil crisis altered the fuel economy/reliability equation which made CIE prepared to sacrifice low miles per gallon in return for less downtime.
Now, it is very happy with the performance of the fleet of over 300 Detroit-powered Bombardiers, but has changed the driveline specification in pursuit of lower capital and running costs.
The current order for Detroitpowered double-deckers will be completed by the middle of next year, when 363 will have enterk service, most of them in Dubli where they have replaced lif expired Leyland Atlanteans ar PD3s. It plans then, subject Government finance being pr vided, to buy 230 one-ma operated single-deck citybusi with Cummins L10 engine Voith D851 gearboxes, ar Kirkstall axles.
The Anglo-German driveline cheaper than the American or especially now that the dollar e change rate has altered, but th is not the only benefit CIE e pacts it to bring.
While driver popularity h helped give the existing vehicl a 92 per cent availability reap compared against the Leylanc 80 per cent figure, CIE enginee admit frankly that the Detroit e gine is thirstier than they woL like. They are "pleasantly si prised" by the 5mpg being I turned in city service, but sor of the Atlanteans are more ec nomical, and initial trials vi the L10 engine have confirm that it will bring an impro\ ment.
An Atlantean was re-eciuipp last year with a development L
and Voith gearbox, and has be returning respectable fuel cc sumption figures since it wr into service in April 1981, an B mbardiet double-decker with e new driveline has been o erating for around two and a h If months. A production prototype of the single-deck order has also been built and is being tested at the Cummins plant at D: rlington. A by-product of the changed
s ecification should be a lower floor in the rear of the Cumminsttivered buses. The dimensions
o he Rockwell axles, while leaving space for a reasonably low gangway, mean that the seats in the back portion of the city vehicles are on a raised floor with limited headroom. CIE also hOs been disappointed by the after-sales service available from Rockwell, and is looking for a better deal from Kirkstall.
It is keeping its options open, though, and does not rule out a return to the American driveline if that should appear attractive in the future. Another power package is being evaluated in a Bombardier double-decker built last year as part of a so-far unpursued attack on the British market. That vehicle has a 180bhp (134kW) Rolls-Royce Eagle III diesel, ZF 4HP500 automatic gearbox, and Kirkstall axles, and hts been on test on the LimerickShannon route, a fairly gentle
r ute which keeps the bus near t e Bombardier factory, its e gineers and any potential customers. The ZF gearbox has caused
s me problems, but the recent redesign of valves may have helped it settle down. A similar specification has been chosen for a left-hand-drive prototype built for demonstration in Baghdad.
CIE has also tested a Marshallbodied Scania BR112DH doubled cker which Ireland's Scania irrporter persuaded it to run on D blin city services. There have b en no serious problems with th s vehicle – basically built to N wport Borough Council speck fi tions – but Scania is reluctant to supply running units for In tallation in the Bombardier body, so only its Voith D851 —, gearbox will form part of future fleet purchases.
The integral body is fundamental to the future of the project. It was designed for maximum strength on Ireland's often badly surfaced roads, and it is living up to that requirement. One double-decker, bus KD13, was taken out of service after completing 30,000 miles in revenue-earning service, and has undergone 1,500 miles of endurance tests at the Motor Industry Research Association's Nuneaton circuit. Nothing alarming was shown up in these trials, which were intended to cure long-term problems before they developed, and no bus has suffered from upper frame failures in service.
Even a double-decker which was written off in a collision with a lorry suffered its fate without causing serious injury to its driver.
It is easy to understand, therefore, why the integral design principle is being carried on to the next stage of the project, a range of lightweight buses for rural services and school bus work (CM, November 13). At present, CIE operates Bedford SB5s and 20-year-old Leyland Leopards on this work, and is anxious to start a replacement programme around the end of 1984, using vehicles which carry forward the standardisation policy started with the "bus family".
FFG has built two prototypes which share many of the window glasses and body parts of the heavier vehicles, and which have optional drivelines which will be tested against one another before the final production specification is chosen. Both have lighter Kirkstall axles, automatic gearboxes, and have sixlitre longitudinally-mounted vertical rear engines.
A 47-seater has a DAF DF615 engine and Allison AT545 gearbox, and has been tested by DAF at Eindhoven, and a 46-seater has a slightly more intrusive Mercedes-Benz 0M352 engine and Mercedes gearbox. The DAF-powered bus has a hydraulic fan drive cooling system, similar to that in Atlanteans which CIE has fitted with DAF DK1160 engines, while the other has belt-drive cooling, a less attractive option in CIE's view.
Engine access, especially on the DAF vehicle, is said to be tremendous. The prototypes are expected in Ireland by January at the latest.
That is the long-term plan, but it all depends on the Government continuing to finance the project, which can be justified largely on job creation grounds. CIE, naturally, insists that it has cut back its new vehicle intake to the bare minimum, but Bombardier is one of a series of marginal projects which, in the context of Ireland's mounting national debt, might be sacrificed. Others are the Whitegates oil refinery, the NET chemical company, and the apparently unstoppable project to build an international airport in the wilds of County Mayo. Something might have to give, and it could be the bus factory.
It was a moment of truth on funding that nearly killed Bombardier earlier this year. Charles Haughey's Fianna Fail Government rejected a CIE call for an extra 113E9m (£7m) to top up the 1R£20m already agreed for building five double-deckers a week, and instead provided a "very generous" 1R£5m. CIE wanted the large number of buses because the collapse of its earlier bus manufacturing project, Van Hool-McArdle at Dublin, had compelled it to keep life-expired Leylands for longer than planned, but its five-a-week order seems to have been placed contrary to Government strictures, even although over 300 jobs (200 appears to have been the agreed number) were created at Shannon alone.
Observers suggest that CIE was guilty of well intentioned political naivete, as it appears it took a Fianna Fail party conference pledge to provide 100,000 phones and 500 buses as direct authority to buy, when the implicit understanding was that it would order five buses a fortnight, and leave ,Bombardier to develop export business.
The immediate effect of the Government's pulling of the plug on CIE was that Bombardier, starved of other business, issued advance notice of lay offs at the factory, ran down the purchase of parts for new vehicles, suspended CIE production, and prepared to close down for the winter. Politicians were quick to intervene, and the minority TDs (MPs) who eventually defeated the Government last month threatened an even earlier demise on the back of the Bombardier debacle.
Rescue came quickly, for a byelection was called in County Clare (Bombardier's constituency), and CIE was given Government approval to buy new buses throughout the winter, as Bombardier was on the brink of winning its first export contract. Latest word from the manufacturer is that it has a better than 75/25 chance of winning an order for 50 single-deckers, apparently for service in the US. No price has been placed on that order, but it presumably is lower than the 1R£100,000 approximate price at which each of CIE's buses is being bought.
To be fair, that is a somewhat artificial figure, as it includes development costs, and has created 360 semi-skilled jobs at Shannon and more in downstream factories which supply components. There also is a long-term CIE aim of reducing its parts holding costs and operating costs, but for whatever motives, the Government is now looking much more closely at CIE's involvement in the project.
Even if orders are kept running at the lower agreed rate, and some export business is won, Bombardier is still a long way from becoming the volume multi-market business its architects envisaged in the Seventies, when prospects generally were greater. Fortunately, the vehicle is giving a good credit of itself.