Pay trouble soon after Christmas
11th December 1982
Page 3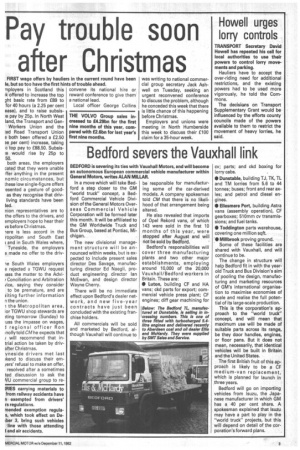 Page 3, 11th December 1982 —
Pay trouble soon after Christmas
Close
FIRST wage offers by hauliers in the current round have been le, but so too have the first hints of trouble ahead.
-nployers in Scotland this ,k offered to increase the top ght basic rate from £89 to for 40 hours (a 2.25 per cent ease), and to raise subsis:le pay by 25p. In North West land, the Transport and GenWorkers Union and the led Road Transport Union a both been offered a £2.50 ae per cent) increase, taking c top pay to £88.50. Subsis:e would rise by 25p to 50.
both areas, the employers cated that they were unable ffer anything in the present nomic circumstances, but these low single-figure offers esented a gesture of goodas they recognise that drivliving standards have been led.
nion representatives are to the offers to the drivers, and employers hope to hear their vs before Christmas.
iere is less accord in the ropolitan and South East and in South Wales where, Tyneside, the employers • made no offer to the driv South Wales employers e rejected a TGWU request lass the matter to the AdviConciliation and Arbitration rice, saying they consider to be premature, and are iiting further information n the union.
.1 the Metropolitan area, or TGWU shop stewards are ?.ting tomorrow (Sunday) to use the impasse on wages, 1 regional officer Ron molly told CM he expects that Will recommend that intrial action be taken by drivafter Christmas.
yneside drivers met last :kend to discuss their emters' refusal to make an offer, resolved after a sometimes ted discussion to ask the VU commercial group to re convene its national hire or reward conference to give them a national lead.
Local officer George Collins 'THE VOLVO Group sales increased to £4.29bn for the first nine months of this year, compared with E2.6bn for last year's first nine months.
was writing to national commercial group secretary Jack Ashwell on Tuesday, seeking an urgent reconvened conference to discuss the problem, although he conceded this week that there is little chance of this happening before Christmas.
Employers and unions were meeting in North Humberside this week to discuss their £100 claim for a 35-hour week.