loming in on 3xam success
11th December 1982
Page 15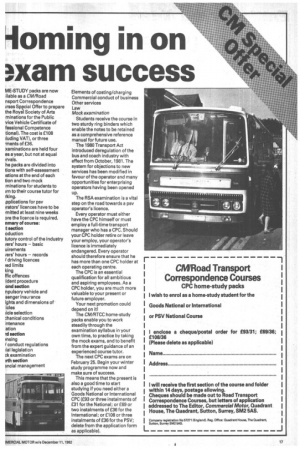 Page 15, 11th December 1982 —
loming in on 3xam success
Close
ME-STUDY packs are now liable as a CM/Road nsport Correspondence
Jrses Special Offer to prepare
the Royal Society of Arts
,minations for the Public
vice Vehicle Certificate of fessional Competence Ilona!). The cost is £108 luding VAT), or three 'ments of £36.
xaminations are held four as a year, but not at equal orvals.
he packs are divided into (ions with self-assessment istions at the end of each (ion and two mock rninations for students to Jrn to their course tutor for rking.
ipplications for psv irators' licences have to be imitted at least nine weeks ore the licence is required.
nmary of course: t section oduction tutory control of the industry rers' hours — basic uirements rers' hours — records
(driving licences
pad limits king ffic offences :ident procedure ond section ripulsory vehicle and senger insurance ights and dimensions of ides lick+ selection :hanical conditions intenance ation rd section ming conduct regulations :lal legislation ck examination irth section
3ncial management
Elements of costing/charging Commercial conduct of business Other services Law Mock examination Students receive the course in two sturdy ring binders which enable the notes to be retained as a comprehensive reference manual for future use.
The 1980 Transport Act introduced deregulation of the bus and coach industry with effect from October, 1981. The system for objections to new services has been modified in favour of the operator and many opportunities for enterprising operators having been opened up.
The RSA examination is a vital step on the road towards a psv operator's licence.
Every operator must either have the CPC himself or must employ a full-time transport manager who has a CPC. Should your CPC holder retire or leave your employ, your operator's licence is immediately endangered. Every operator should therefore ensure that he has more than one CPC holder at each operating centre.
The CPC is an essential qualification for all ambitious and aspiring employees. As a CPC holder, you are much more valuable to your present or future employer.
Your next promotion could depend on it!
The CM/RTCC home-study packs enable you to work steadily through the examination syllabus in your own time, to practice by taking the mock exams, and to benefit from the expert guidance of an experienced course tutor.
The next CPC exams are on February 25. Begin your winter study programme now and make sure of success.
This means that the present is also a good time to start studying if you need either a Goods National or International CPC(£93 or three instalments of £31 for the National; or £69 or two instalments of £36 for the International; or E108 or three instalments of £36 for the PSV; delete from the application form as applicable).