Safer unloading
11th December 1982
Page 14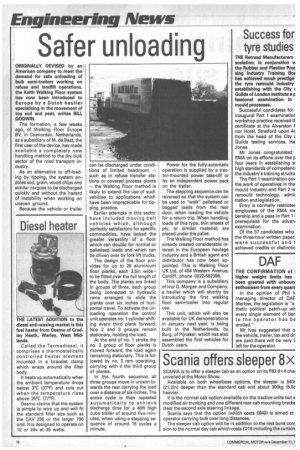 Page 14, 11th December 1982 —
Safer unloading
Close
ORIGINALLY DEVISED by an American company to meet the demand for safe unloading of bulk semi-trailers working on refuse and landfill operations, the Keith Walking Floor system has now been introduced to Europe by a Dutch haulier specialising in the movement of top soil and peat, writes BILL GOD WIN The formation, a few weeks ago, of Walking Floor Europe BV, in Coevorden, Netherlands, as a subsidiary of M. de Beat, the first user of the device, has made available a completely new handling method to the dry bulk sector of the road transport industry.
As an alternative to off-loading by tipping, the system enables soil, grain, wood chips and similar cargoes to be discharged quickly and without the hazard of instability when working on uneven ground.
Because the vehicle or trailer can be discharged under conditions of limited headroom — such as in refuse transfer stations or covered process plants — the Walking Floor method is likely to extend the use of such vehicles to applications which have been impracticable for tipping practice.
Earlier attempts in this sector have included moving belt vehicles which, although perfectly satisfactory for specific commodities, have lacked the greater versatility of a floor which can double for normal or palletised loads and which can be driven over by fork lift trucks.
The design of the floor provides for up to 26 aluminium floor planks, each 3.5in wide— to befitted over the full length of the body. The planks are linked in groups of three, each group being connected to hydraulic rams arranged to slide the planks over six inches of horizontal travel. To activate the unloading operation the control unit operates no. 1 cylinder shifting every third plank forward. Nos 2 and 3 groups remain stationary, holding the load.
At the end of no. 1 stroke the no. 2 group of floor planks is moved forward, the load again remaining stationary. This is followed by no. 3 ram operating, carrying with it the third group of planks.
In the fourth sequence all three groups move in unison towards the rear carrying the load over a distance of six inches. The entire cycle is then repeated automatically to achieve discharge time for a 40ft high cube trailer of around five minutes, when using a stepping sequence of around 16 cycles a minute. Power for the fully-automatic operation is supplied by a tractor-mounted power take-off or by an independent power pack on the trailer.
. The stepping sequence can be reversed so that the system can be used to "walk" palletised or • bagged loads from the rear door, when loading the vehicle for a return trip. When handling loads of this type, thin sheets of ply, or similar material, are placed underth'e pallet.
The Walking Floor method has already created considerable interest in the European haulage industry and a British agent and distributor has now been appointed. This is Walking Floor UK Ltd, of 454 Western Avenue, Cardiff, phone 0222-562396.
This company is a subsidiary of Ivor D. Morgan and Company, a haulier which will shortly be introducing the first walking floor semi-trailer into regular use.
This unit, which will also be available for UK demonstrations in January next year, is being built in the Netherlands, by Burg, of Pijnaker, which has also assembled the first vehicles for Dutch users.