THREE MILLION TONS OF MUCK IN LONDON
11th December 1970
Page 93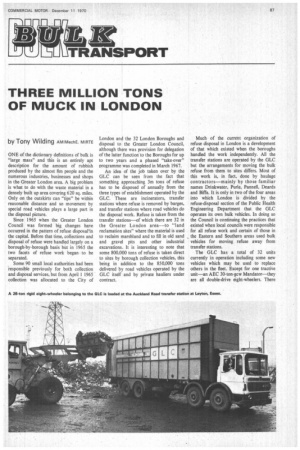 Page 94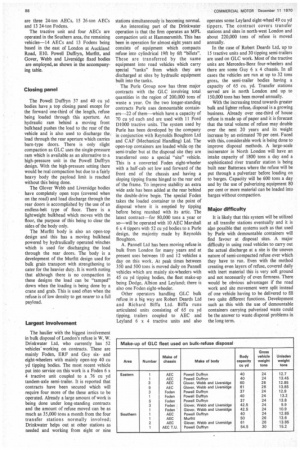 Page 93, 11th December 1970 —
THREE MILLION TONS OF MUCK IN LONDON
Close
by Tony Wilding AMIMechE, MIRTE
ONE of the dictionary definitions of bulk is "large mass" and this is an entirely apt description for the amount of rubbish produced by the almost 8m people and the numerous industries, businesses and shops in the Greater London area. A big problem is what to do with the waste material in a densely built up area covering 620 sq. miles. Only on the outskirts can "tips" be within reasonable distance and so movement by special road vehicles plays a large part in the disposal picture.
Since 1965 when the Greater London Council was formed big changes have occurred in the pattern of refuse disposal'in the capital. Before that time, collections and disposal of refuse were handled largely on a borough-by-borough basis but in 1965 the two facets of refuse work began to be separated.
Some 90 small local authorities had been responsible previously for both collection and disposal services, but from April 1 1965 collection was allocated to the City of London and the 32 London Boroughs and disposal to the Greater London Council, although there was provision for delegation of the latter function to the Boroughs for up to two years and a phased "take-over" programme was completed in March 1967.
An idea of the job taken over by the GLC can be seen from the fact that something approaching 3m tons of refuse has to be disposed of annually from the three types of establishment operated by the GLC. These are incinerators, transfer stations where refuse is removed by barges, and transfer stations where road vehicles do the disposal work. Refuse is taken from the transfer stations--of which there are 32 in the Greater London area--to "land reclamation sites" where the material is used to reclaim marshland and to fill in old sand and gravel pits and other industrial excavations. It is interesting to note that some 800,000 tons of refuse is taken direct to sites by borough collection vehicles, this being in addition to the 850,000 tons delivered by road vehicles operated by the GLC itself and by private hauliers under contract. Much of the current organization of refuse disposal in London is a development of that which existed when the boroughs handled the work independently. All the transfer stations are operated by the GLC but the arrangements for moving the bulk refuse from them to sites differs. Most of this work is, in fact, done by haulage contractors—mainly by those familiar names Drinkwater, Purle, Pannell, Deards and Biffa. It is only in two of the four areas into which London is divided by the refuse-disposal section of the Public Health Engineering Department that the GLC operates its own bulk vehicles. In doing so the Council is continuing the practices that existed when local councils were responsible for all refuse work and certain of those in the Eastern and Southern areas used bulk vehicles for moving refuse away from transfer stations.
The GLC has a total of 32 units currently in operation including some new vehicles which may be used to replace others in the fleet. Except for one tractive unit—an AEC 30-ton-gcw Mandator—they are all double-drive eight-wheelers. There are three 24-ton AECs, 15 26-ton AECs and 13 24-ton Fodens.
The tractive unit and four AECs are operated in the Southern area, the remaining vehicles-14 AECs and 13 Fodens being based in the east of London at Auckland Road, E10. Powell Duffryn, Murfitt, and Gover, Webb and Liversidge fixed bodies are employed, as shown in the accompanying table.
Closing panel The Powell Duffryn 37 and 40 Cu yd bodies have _a. top closing panel except for the forward one-third of the length, refuse being loaded through this aperture. An hydraulic ram behind a moving front bulkhead pushes the load to the rear of the vehicle and is also used to discharge the, load through the rear aperture which carries barn-type doors. There is only slight compaction as GLC uses the single-pressure ram which is available as an alternative to a high-pressure unit in the Powell Duffryn design. With the high-pressure setting there would be real compaction but due to a fairly heavy body the payload limit is reached without this being done.
The Glover Webb and Liversidge bodies have completely open tops (covered when on the road) and load discharge through the rear doors is accomplished by the use of an endless-belt type of floor. There is a lightweight bulkhead which moves with the floor, the purpose of this being to clear the sides of the body only.
The Murfitt body is also an open-top design and this has a moving bulkhead powered by hydraulically operated winches which is used for discharging the load through the rear doors. The body is a development of the Murfitt design used for bulk grain transport with strengthening to cater for the heavier duty. It is worth noting that although there is no compaction in these designs the load can be "tamped" down when the loading is being done by a crane and grab. This is used often when the refuse is of' low density to get nearer to a full payload.
Largest involvement The haulier with the biggest involvement in bulk disposal of London's refuse is W. W. Drinkwater Ltd, who currently has 52 vehicles' working on contracts. These are mainly Foden, ERF and Guy sixand eight-wheelers with mainly open-top 40 cu yd tipping bodies. The most recent vehicle put into service on this work is a Foden 6 x 4 tractive unit coupled to a ,76 cu yd tandem-axle semi-trailer. It is reported that contracts have been secured which will require four more of the these artics to be operated. Already a large amount of work is being done under long-standing contracts and the amount of refuse moved can be as much as 35,000 tons a month from the four transfer stations normally involved; Drinkwater helps out at other stations as needed and working from eight or nine stations simultaneously is becoming normal.
An interesting part of the Drinkwater operation is that the firm operates an MPL compaction unit at Hammersmith. This has been in operation for almost eight years and consists of equipment which compacts refuse into cylindrical 19ft by 611 "billets". These are transferred by the same equipment into road vehicles which carry special "tanks" from which they are discharged at sites by hydraulic equipment built into the tanks.
The Purle Group now has three major contracts with the GLC involving total quantities in the region of 200,000 tons of waste a year. On the two longer-standing contracts Purle uses demountable containers-22 of them--which have a capacity of 70 Cu yd each and are used with 11 Ford D1000 tractive units. The system used by Purle has been developed by the company in conjunction with Reynolds Boughton Ltd and CAF (Mechanical Handling) Ltd. The open-top containers are loaded while op the semi-trailer but at the disposal site they are transferred onto a special "site" vehicle. This is a converted Foden eight-wheeler with a half-cab set low and forward of the front end of the chassis and having a sloping tipping frame hinged to the rear end of the frame. To improve stability an extra wide axle has been added at the rear behind the double-drive bogie. The special Foden takes the loaded container to the point of disposal where it is emptied by tipping before being reunited with its artic. The latest contract—for 80,000 tons a year or so—will be operated with 10 AEC Marshall 6 x 4 tippers with 52 cu yd bodies to a Purle design.. the majority made by Reynolds Boughton.
A. Pannell Ltd has been moving refuse in bulk from London for many years and at present uses between 10 and 12 vehicles a day on this work. At peak times between 350 and 500 tons is moved daily on Pannell vehicles which are mainly six-wheelers with 45 cu yd tipping bodies, the fleet make-up being Dodge, Albion and Leyland; there is also one Foden eight-wheeler.
Other operators handling GLC bulk refuse in a big way are Robert Deards Ltd and Richard Biffa Ltd. Biffa runs articulated units consisting of 65 Cu yd tipping, trailers coupled to AEC and Leyland 6 x 4 tractive units and also operates some Leyland eight-wheel 49 cu yd tippers. The contract covers transfer stations and sites in north-west London and about 220,000 tons of refuse is moved annually.
In the case of Robert Deards Ltd, up to 15 tractive units and 30 tipping semi-trailers are used on GLC work. Most of the tractive units are Mercedes-Benz four-wheelers and there are some Guy 6 x 4 chassis. In all cases the vehicles are run at up to 32 tons gross, the semi-trailer bodies having a capacity of 65 cu. yd. Transfer stations served are in north London and up to 150,000 tons has been moved annually.
With the increasing trend towards greater bulk and lighter refuse, disposal is a growing business. Already over one-third of house refuse is made up of paper and it is forecast that the total volume of refuse may double over the next 20 years and its weight increase by an estimated 70 per cent. Faced with this, considerable work is being done to improve disposal methods. A large-scale incinerator in North London will have an intake capacity of 1800 tons a day and a sophisticated river transfer station is being built near Battersea where the refuse will be put through a pulverizer before loading on to barges. Capacity will be 600 tons a day and by the use of pulverizing equipment 80 per cent or more material can be loaded into barges without compaction.
Major difficulty It is likely that this system will be utilized at all transfer stations eventually and it is also possible that systems such as that used by Purle with demountable containers will find favour at disposal sites. A major difficulty in using road vehicles to carry out the actual discharge at a site is the uneven nature of semi-compacted refuse over which they have to run. Even with the method creating even layers of refuse, covered daily with inert material this is very soft ground and not necessarily of even firmness. There would be obvious advantages if the road work and site movement were split instead of one vehicle having to be delivered to fill two quite different functions. Development such as this with the use of demountable containers carrying pulverized waste could be the answer to waste disposal problems in the long term.