New lightweight low-loader
11th December 1970
Page 64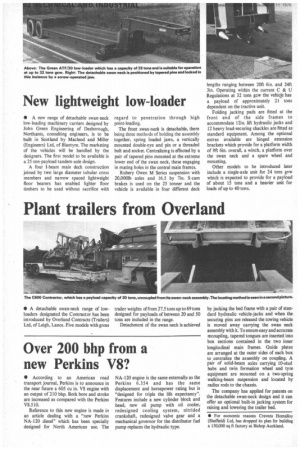 Page 64, 11th December 1970 —
New lightweight low-loader
Close
Keywords :
• A new range of detachable swan-neck low-loading machinery carriers designed by John Green Engineering of Desborough, Northants, consulting engineers, is to be built in Scotland by Macleod and Miller (Engineers) Ltd, of Blantyre. The marketing of the vehicles will be handled by the designers. The first model to be available is a 25-tan-payload tandem-axle design.
A four 1-beam main deck construction joined by two large diameter tubular cross members and narrow spaced lightweight floor bearers has enabled lighter floor timbers to be used without sacrifice with regard to penetration through high point-loading.
The front swan-neck is detachable, there being three methods of holding the assembly together, spring loaded jaws, a vertically mounted double-eye and pin or a threaded bolt and socket. Centralizing is effected by a pair of tapered pins mounted at the extreme lower end of the swan neck, these engaging in mating holes in the central main frames.
Rubery Owen M Series suspension with 20,000lb axles and 16.5 by 7in. S-cam brakes is used on the 25 tanner and the vehicle is available in four different deck lengths ranging between 20ft 6in. and 24ft 3in. Operating within the current C & U Regulations at 32 tons gcw the vehicle has a payload of approximately 21 tons dependent on the tractive unit.
Folding jacking pads are fitted at the front end of the side frames to accommodate 12in. lift hydraulic jacks and 12 heavy load-securing shackles are fitted as standard equipment. Among the optional extras available are hinged extension brackets which provide for a platform width of 9ft 6in. overall, a winch, a platform over the swan neck and a spare wheel and mounting.
Other models to be introduced later include a single-axle unit for 24 tons gvw which is expected to provide for a payload of about 15 tons and a heavier unit for loads of up to 40 tons.