Minister relaxes hours regulations
11th December 1970
Page 55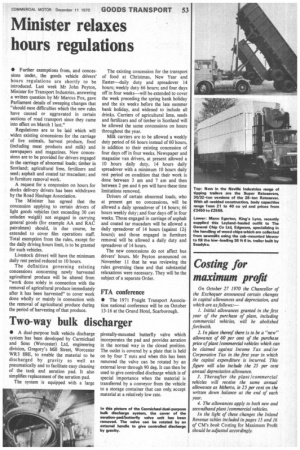 Page 55, 11th December 1970 —
Minister relaxes hours regulations
Close
• Further exemptions from, and concessions under,, the goods vehicle drivers' hours regulations are shortly to be introduced. Last week Mr John Peyton, Minister for Transport Industries, answering a written question by Mr Marcus Fox, gave Parliament details of sweeping changes that "should ease difficulties which the new rules have caused or aggravated in certain sections of road transport since they came into effect on March I last."
Regulations are to be laid which will widen existing concessions for the carriage of live animals, harvest produce, food (including meat products and milk) and newspapers and magazines. New concessions are to be provided for drivers engaged in the carriage of abnormal loads; timber in Scotland; agricultural lime, fertilizers and seed; asphalt and coated tar macadam; and in furniture removal work.
A request for a concession on hours for docks delivery drivers has been withdrawn by the Road Haulage Association.
The Minister has agreed that the concession applying to certain drivers of light goods vehicles (not exceeding 30 cwt unladen weiglit) not engaged in carrying general goods (for example AA and RAC patrolmen) should, in due course, be extended to cover film operations staff. Total exemption from the rules, except for the daily driving hours limit, is to be granted for such vehicles.
Livestock driver§ will have the minimum daily rest period reduced to 10 hours.
The definition governing existing concessions concerning newly harvested agricultural produce will be altered from "work done solely in connection with the removal of agricultural produce immediately after it has been harvested" to cover work done wholly or mainly in connection with the removal of agricultural produce during the period of harvesting of that produce. The existing concession for the transport of food at Christmas, New Year and Easter—daily duty and spreadover 14 hours; weekly duty 66 hours; and four days off in four weeks—will be extended to cover the week preceding the spring bank holiday and the six weeks before the late summer bank holiday, and widened to include all drinks. Carriers of agricultural lime, seeds and fertilizers and of timber in Scotland will be allowed the same concessions on hours throughout the year.
Milk carriers are to be allowed a weekly duty period of 66 hours instead of 60 hours, in addition to their existing concession of four days off in four weeks. Newspaper and magazine van drivers, at present allowed a 10 hours daily duty, 14 hours daily spreadover with a minimum 10 hours daily rest period on condition that their work is done between 3 am and 7 am and then between 2 pm and 6 pm will have these time limitations removed.
Drivers of certain abnormal loads, who at present get no concessions, will be allowed a daily spreadover of 14 hours; 66 hours weekly duty; and four days off in four weeks. Those engaged in carriage of asphalt and coated tar macadam will be allowed a daily spreadover of 14 hours (against 12+ hours); and those engaged in furniture removal will be allowed a daily duty and spreadover of 14 hours.
The new concessions do not affect bus drivers' hours. Mr Peyton announced on November 11 that he was reviewing the rules governing these and that substantial relaxations were necessary. They will be the subject of a separate Order.
ETA conference
• The 1971 Freight Transport Association national conference will be on October 13-16 at the Grand Hotel, Scarborough.