Appeal to BRSL chief
11th December 1970
Page 54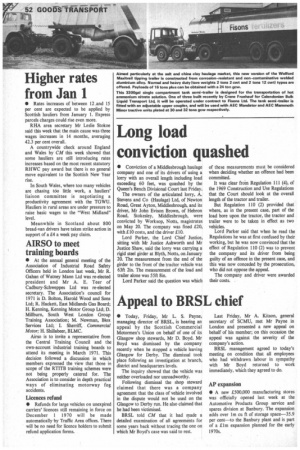 Page 54, 11th December 1970 —
Appeal to BRSL chief
Close
• Today, Friday, Mr L. S. Payne, managing director of BRSL, is hearing an appeal by the Scottish Commercial Motormen's Union on behalf of one of its Glasgow shop stewards, Mr D. Boyd. Mr Boyd was dismissed by the company recently when he stopped a vehicle leaving Glasgow for Derby. The dismissal took place following an investigation at branch, district and headquarters levels.
The inquiry showed that the vehicle was neither overloaded nor unroadworthy.
Following dismissal the shop steward claimed that there was a company agreement that the class of vehicle involved in the dispute would not be used on the Glasgow to Derby run. He also claimed that he had been victimised.
BRSL told CM that it had made a detailed examination of all agreements for some years back without tracing the one on which Mr Boyd's case was said to rest. Last Friday, Mr A. Kitson, general secretary of SCMU, met Mr Payne in London and presented a new appeal on behalf of his member; on this occasion the appeal was against the severity of the company's action.
BRSL management agreed to today's meeting on condition that all employees who had withdrawn labour in sympathy with Mr Boyd returned to work immediately. which they agreed to do.
AP expansion
• A new £500,000 manufacturing stores was officially opened last week at the Automotive Products Group service and spares division at Banbury. The expansion adds over lm cu ft of storage space-35.9 per cent—to the Banbury plant and is part of a Elm expansion planned for the early 1970s.