Weights decision soon
11th December 1970
Page 52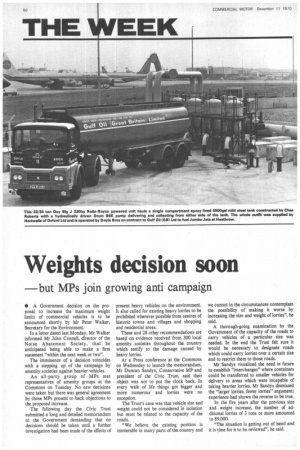 Page 52, 11th December 1970 —
Weights decision soon
Close
but MPs join growing anti campaign
• A Government decision on the proposal to increase the maximum weight limits of commercial vehicles is to be announced shortly by Mr Peter Walker. Secretary for the Environment.
In a letter dated last Monday, Mr Walker informed Mr John Connell, director of the Noise Abatement Society. that he anticipated being able to make a firm statement "within the next week or two".
The imminence of a decision coincides with a stepping up of the campaign by amenity societies against heavier vehicles.
An all-party group of MPs met representatives of amenity groups at the Commons on Tuesday. No new decisions were taken but there was general agreement by those MPs present to back objections to the proposed increase.
The following day the Civic Trust submitted a long and detailed memorandum to the Government demanding that no decisions should be taken until a further investigation had been made of the effects of present heavy vehicles on the environment. It also called for existing heavy lorries to be prohibited wherever possible from centres of historic towns and villages and shopping and residential areas.
These and 28 other recommendations are based on evidence received from 300 local amenity societies throughout the country which testify to the damage caused by heavy lorries.
At a Press conference at the Commons on Wednesday to launch the memorandum. Mr Duncan Sandys, Conservative MP and president of the Civic Trust, said their object was not to put the clock back. In every walk of life things got bigger and more numerous and lorries were no exception.
The Trust's case was that vehicle size and weight could not be considered in isolation but must be related to the capacity of the roads.
"We believe the existing position is intolerable in many parts of the country and we cannot in the circumstances contemplate the possibility of making it worse by increasing the size and weight of lorries", he said.
A thorough-going examination by the Government of the capacity of the roads to carry vehicles of a particular size was needed. In the end the Trust felt sure it would be necessary to designate roads which could carry lorries over a certain size and to restrict them to those roads.
Mr Sandys visualized the need in future to establish "interchanges" where containers could be transferred to smaller vehicles for delivery to areas which were incapable of taking heavier lorries. Mr Sandys dismissed the "larger lorries, fewer lorries" argument: experience had shown the reverse to be true.
In the five years after the previous size and weight increase, the number of additional lorries of 3 tons or more amounted to 89.000.
"The situation is getting out of hand and it is time for it to be reviewed", he said.