96 New COMMERCIAL MOTOR December 11 1970
11th December 1970
Page 102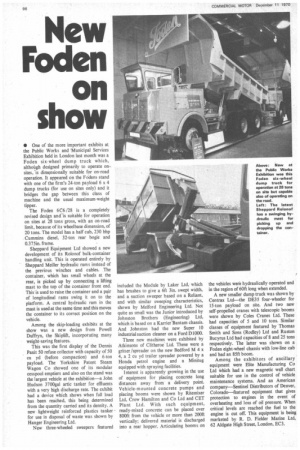 Page 102, 11th December 1970 —
96 New COMMERCIAL MOTOR December 11 1970
Close
Foden on show
• One of the more important exhibits at the Public Works and 'Municipal Services Exhibition held in London last month was a Foden six-wheel dump truck which, although designed primarily to operate onsites, 'is dimensionally suitable for on-road operation. It appeared on the Foklens stand with one of the firm's 24-ton payload 6 x 4 dump trucks (for use on sites only) and it bridges the gap between this class of machine and the usual maximum-weight tipper.
The Foden 6C6 /28 is a completely revised design and'is suitable for operation on sites at 28 tons gross, with an on-road limit, because of its wheelbase dimension, of 20 tons. The model has a half cab, 230 bhp Cummins diesel, 32-ton rear bogie and 0.375in. frame.
Sheppard Equipment Ltd showed a new development of its Rolonof bulk-container handling unit. This is operated entirely by Sheppard Meiller hydraulic rams instead of the previous winches and cables. The container, which has small wheels at the rear, is picked up by connecting a lifting mast to the top of the container front end. This is used to raise the container and a pair of longitudinal rams swing it on to the platform. A central hydraulic ram in the mast is used at the same time and this moves the container to its correct position on the vehicle.
Among the skip-loading exhibits at the show was a new design from Powell Duffryn, the Skiplift, incorporating many weight-saving features.
This was the first display of the Dennis Paacit 50 refuse collector with capacity of 50 cu yd (before compaction) and 6-ton payload. The Yorkshire Patent Steam Wagon Co showed one of its modular cesspool emptiers and also on the stand was the largest vehicle at the exhibition—a John Hudson 3700ga1 artic tanker for effluents with a very high discharge rate. The exhibit had a device which shows when full load has been reached, this being determined from the quantity carried and its density. A new lightweight reinforced plastics tanker for use in disposal of waste was shown by Hanger Engineering Ltd.
New three-wheeled sweepers featured included the Module by Laker Ltd, which has brushes to give a 6ft 3in. swept width, and a suction sweeper based on a Reliant, and with similar sweeping characteristics, shown by Melford Engineering Ltd. Not quite as small was the Junior introduced by Johnston Brothers (Engineering) Ltd, which is based on a Karrier 'Bantam chassis. And Johnston had the new Super 10 industrial suction cleaner on a Ford D1000.
Three new machines were exhibited by Atkinsons of Clitheroe Ltd. These were a gritter /spreader on the new Bedford M 4 x 4, a 2 cu yd trailer spreader powered by a Honda petrol engine and a Minitug equipped with spraying facilities.
Interest is apparently growing in the use of equipment for placing concrete long distances away from a delivery point. Vehicle-mounted concrete pumps and placing booms were shown by Ritemixer Ltd, Crow Hamilton and Co Ltd and CET Plant Ltd. With such equipment, ready-mixed concrete can be placed over 800ft from the vehicle or more than 200ft vertically; delivered material is discharged into a rear hopper. Articulating booms on the vehicles were hydraulically operated and in the region of 6011 long when extended.
A new smaller dump truck was shown by Centrax Ltd—the DE35 four-wheeler for 15-ton payload on site. And two new self-propelled cranes with telescopic booms were shown by Coles Cranes Ltd. These had capacities of 5 and 10 tons. Similar classes of equipment featured by Thomas Smith and Sons (Rodley) Ltd and Ruston Bucyrus Ltd had capacities of 8 and 25 tons respectively. The latter was shown on a Foden eight-wheel chassis with low-line cab and had an 8511 boom.
Among the exhibitors of ancillary equipment were Elite Manufacturing Co Ltd which had a new magnetic wall chart suitable for use in the control of vehicle maintenance systems. And an American company—Sentinel Distributors of Denver, Colorado—featured equipment that gives protection to engines in the event of overheating and loss of oil pressure. When critical levels are reached the fuel to the engine is cut off. This equipment is being marketed by R. D. Fielder Marine Ltd, 62 Aldgate High Street, London, EC3.