The Exhibition at Ghent.
11th April 1912
Page 9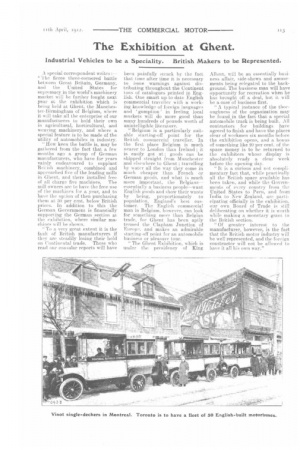 Page 9, 11th April 1912 —
The Exhibition at Ghent.
Close
Industrial Vehicles to be a Speciality. British Makers to be Represented.
A special correspondent writes :— " 1.11e fierce three-cornered battle between Great Britain, Germany, arid the United States for supremacy in the world's machinery market will be further fought next year at the exhibition which is being held at Ghent, the Manchester-13irmingham of Belgium, whe.re it will take all the enterprise of our manufacturers to hold their own in agricultural, horticultural, and weaving machinery, and where a special feature is to be made of the utility of automobiles in industry.
"How keen the battle is, may be gathered from the fact that a few months ago a group of German manufacturers, who have for years vainly endeavoured to supplant Bri: ish machinery, combined and approached five of the leading mills in Ghent, and there installed free of all charge five machines. The mill owners arr to have the free use of the machines fm a year, and to have the option of then purchasing them at 30 per cent. below British prices. In addition to this the German Government is financially supporting the German section at the exhibition, where similar machines will be shown.
" To a very great extent it is the fault of British manufacturers. if they are steadily losing their bold on Continental trade. Those who read our consular reports will have
been painfully struck by the fact that time after time it is necessary to issue warnings against distributing throughout the Continent tons of catalogues printed in English. One smart up to-date English commercial traveller with a working knowledge of foreign languages and gumption' in feeling local markets will do more good than many. hundreds of pounds worth of unintelligible literature.
"Belgium is a. particularly suitable starting-off point for the British coinmercial traveller. In the first place Belgium is much nearer to London than Ireland ; it iseasily got at ; goods can be shipped straight from Manchester and elsewhere to Ghent ; travelling by water all the way they come in much cheaper than French or German goods, and what is much more important, the Belgians--essentially a business people—want English goods and show their wants by being, proportionately to population, England's best customer. The English commercial man in Belgium, however, can look for something more than Belgian trade, for Ghent has been aptly termed the Clapham Junction of Europe. and makes an admirable starting-off point for an automobile business or pleasure tour.
" The Ghent Exhibition, which is under the presidency of King Albert, will be an essentially business affair, side-shows and amusements being relegated to the background. The business man will have opportunity for recreation when he has brought off a deal, but it will be a case of business first.
" A typical instance of the thoroughness of the organization may be found in the fact that a special automobile track is being built. All contractors for buildings have agreed to finish and have the places clear of workmen six months before the exhibition opens, and a bonus of something like 20 per cent. of the space money is to be returned to the exhibitors whose display is absolutely ready a clear week before the opening day.
"It is a curious and not complimentary fact that-, while practically all the British space available has been taken, and while the Governments of every country from the United States to Peru, and from India to New Zealand. are participating officially in the exhibition, our own Board of Trade is still deliberating on whether it is worth while making a monetary grant to the British section.
"Of greater interest to the manufacturer, however, is the fact that the British motor industry will be well represented, and the foreign constructor will not he allowed to have it all his own way!'