Motors in Malaya.
11th April 1912
Page 15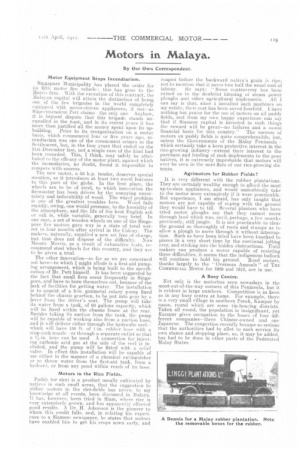 Page 15, 11th April 1912 —
Motors in Malaya.
Close
By Our Own Correspondent.
Motor Equipment stops Incendiarism.
• Singapore Municipality has placed the order for its fifth motor fire vehicle : this has gone to the Morris firm. With the execution of this contract, the Malayan capital will attain the distinction of being one of the few brigades in the world completely equipped with motor-driven appliances, if not—as Superintendent Pett claimsthe only one. Anyhow, it is beyond dispute that this brigade stands unequalled in the East, and in its recent years it has more than justified all the money spent upon its up building. Prior to its reorganization on a motor basis which commenced four or five years ago, incendiarism was one of the commonest crimes in the Settlement, but, in the four years that ended on the 31st December last, not a -single case of the kind had been recorded. This, I think, may safely be attributed to the efficacy of the motor plant, against which the incendiaries, no doubt, found it inipossibie to compete with success.
The new motor, a -55 h.p. tender, deserves special mention, as it introduces at least two novel features to this part of the globe. In the first place, the wheels are to be of steel, to which innovation the firemaster has been driven by the annoying uncertainty and indurability of wood. The wheel problem is one of the greatest troubles here. Wood fails rapidly, owing, one would presume, to the humidity of the atmosphere, and the life of the best English ash or oak is, while variable, generally very brief. In one case, a set of wooden wheels on one of the Singapore fire motors gave way in a state of total wetrot in four months after arrival in the Colony. The makers, naturally, supplied a new set free of charge, but that does not dispose of the difficulty. Now Messrs. Morris, as a result of exhaustive tests, recommend steel wheels for this country, and they are to be given a trial.
The other innovation—so far as we are concerned out here—to which I might allude is a first-aid pumping arrangement., which is being built to the specification of Mr. Pett himself. It has been suggested by the fact that small fires occur frequently in Singapore, and have to burn themselves out, because of the lack of facilities for getting water. The installation is to consist of a 2-in, gunmetal rotary pump fixed behind the chassis gearbox, to he put into gear by a lever from the driver's seat. The pump will take its water from a tank, of 60 gallons capacity, which will be fixed within the chassis frame at the rear. Besides taking its suction from the tank, the pump will he capable of working also from a suction hose, and it will deliver either through the. hydraulic reel— which will have 150 ft. of 1-in, rubber hose with a stop-cock nozzle -or through a separate outlet so that a 1-.1-in. hose can be used. A connection for injecting carbonic acid gas at the side of the reel is included, and the pump will be fitted with a relief valve. In effect this installation will be capable of use either in the manner of a chemical extinguisher or to throw water from the first-aid tank, from a hydrant, or from any pond within reach of its hose.
Motors in the Rice Fields.
Paddy for rice) is a product usually cultivated by natives in such small areas, that the suggestion to utilize motors in the rice-fields has never, to my knowledge at. all events, been discussed in Malaya. It has, however, been tried in Siam, where rice is very extensively grown, and has apparently effected good results. A Dr. H. Adamson is .the pioneer to whom this credit falls, and, in relating his experience to a Siamese newspaper, he states that motors have enabled him to get his crops sown early, and
reaped before the backward native's grain is ripe, nut to mention that it saves him half the usual cost of labour. He says " Some controversy has been raised as to the doubtful blessing of steam power
ploughs and other agricultural implements. All can say is that, since I installed such machines on my estate, their cost has been saved fourfold. I have nothing but praise for the use of motors on all paddy fields, and from my ow it happy experience can say that if Siamese capital is invested in such things the reward will be great—no failures and a sound financial basis for this country." The success of motors on paddy fields is quite comprehensible, but, unless the Governments of the Malay Peninsula -which certainlyst-ake a keen protective interest in the rice-growing industry—extend their interest to the purchase and lending of such implements to the poor natives, it is extremely improbable that motors will ever be seen in the mud-fiats of our rice-growing districts.
Agrimotors for Rubber Fields?
It is very different with the rubber plantations_ They are certainly wealthy enough to afford the most up-to-date appliances, and would undoubtedly take to the motor more. extensively if it were practicable. But experience, I am afraid, has only taught that motors are not capable of coping with the ground they would have to till. Several planters who have tried motor ploughs say that they cannot move through land which was, until, perhaps, a few months previously, still jungle. It is not practicable to clear the ground so thoroughly of roots and stumps as to allow a plough to move through it without interruption. Such as have been tried have been knocked to pieces in a very short time by the continual jolting over, and sticking into the hidden obstructions. Until makers can produce a motor capable of resisting these difficulties, it seems that the indigenous bullock
will continue to hold his ground. Road motors, thanks largely to the "Overseas Annuals" of THE COMMERCIAL MOTOR for 1909 and 1910, are in use.
A Busy Centre.
Not only is the motorbus seen nowadays in the most-out-of-the-way corners of this Peninsula, but it is evident in large numbers. Competition is as keen as in any busy centre at home. For example, there is a very small village in southern Perak, Kampar by name, round which are some tin-bearing districts. Taken all round, the population is insignificant, yet Kampar gives occupation to the buses of four different companies—three Chinese-owned and one Japanese. The congestion recently became so serious that the authorities had to allot to each service its. own stance and stopping place, as, it may he added, has had to be done in other parts of the Federated Malay States.