THE COMMERCIAL MOTOR
11th April 1907
Page 42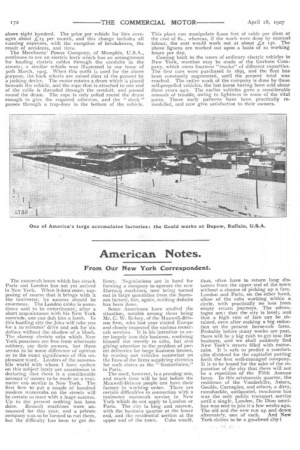 Page 42, 11th April 1907 —
THE COMMERCIAL MOTOR
Close
above eight hundred. The price per vehicle for hire aver ages about per month, and this charge includes all running expenses, with the exception of breakdowns, the result of accidents, and tires.
The Merchants' Power Company, of Memphis, U.S.A., continues to use an electric lorry which has an arrangement for hauling electric cables through the conduits in the .streets ; a similar vehicle was illustrated in our issue of 3oth March, rgos. When this outfit is used for the above purpose, the back wheels are raised clear of the ground by a jacking device, The motor rotates a drum which is placed beneath the vehicle, and the rope that is attached to one end of the cable is threaded through the conduit, and passed round the drum. The rope is only coiled round the drum enough to give the required adhesion, and the " slack " passes through a trap-door in the bottom of the vehicle.
This plant can manipulate 8,000 feet of cable per diem at the cost of Ss., whereas, if the work were done by manual' labour, the cost would work out at about L.2 135. The above figures are worked out upon a basis of to working hours per day.
Coming back to the users of ordinary electric vehicles la New York, mention may be made of the Gorham Company, which owns fourteen "trucks" of different capacities. The first cars were purchased in 1899, and the fleet has been constantly augmented, until the present total was reached. The entire work of the company is done by these self-propelled vehicles, the last horse having been sold about three years ago. The earlier vehicles gave a considerable amount of trouble, owing to lightness in some of the vital parts. These early patterns have been practically remodelled, and now give satisfaction to their owners.