Tractors.
11th April 1907
Page 22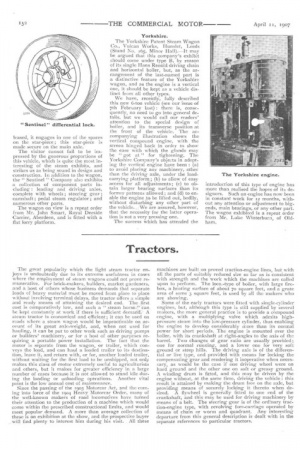 Page 22, 11th April 1907 —
Tractors.
Close
The great popularity which the light steam tractor enjoys is undoubtedly due to its extreme usefulness in cases where the employment of steam wagons could not prove remunerative. For brick-makers, builders, market gardeners, .and a host of others whose business demands that separate loads of heavy material must be moved from place to place without involving terminal delays, the tractor offers a simple and ready means of attaining the desired end. The first cost is comparatively low, and such a " steam horse can he kept constantly at work if there is sufficient demand. A steam tractor is economical and efficient; it can be used on roads where a steam wagon would be impracticable on account of its great axle-weight, and, when not used for hauling, it can be put to other work such as driving pumps or builders' machinery, or for a host of other purposes re.quiring a portable power installation. The fact that the motor is separate from the wagon, or trailer, which conveys the load, and can haul a loaded trailer to its destination, leave it, and return with, or for, another loaded trailer, without waiting for the first load to be unshipped, not only makes this class of motor+
ex,remely useful to agriculturists and others, but it makes for greater efficiency in a large -number of cases because it is not allowed to stand idle duringthe loading or unloading operations. Another vital point is the low annual cost of maintenance. Since the passing of the 1903 Motorcar Act, and the coming into force of the 1904 Heavy Motorcar Order, many of the well-known makers of road locomotives have turned their attention to the production of a machine which would come within the prescribed constructional limits, and would meet popular demand. A more than average collection of these is on exhibition at the show, and the prospective buyer will find plenty to interest him during his visit. All these
machines are built on proved traction-engine lines, but with all the parts of suitably reduced size so far as is consistent with strength and the work which the machines are called upon to perform. The loco.-type of boiler, with large firebox, a heating surface of about 70 square feet, and a grate area of some 3 square feet, is used by all the makers who are showing.
Some of the early tractors were fitted with single-cylinder engines, but, although this type is still supplied by several makers, the more general practice is to provide a compound engine, with a multiplying valve which admits highpressure steam into the low-pressure cylinder, thus enabling the engine to develop considerably more than its normal power for short periods. The engine is mounted over the boiler, with its crankshaft at right-angles to the axis of the barrel. Two changes of gear ratio are usually provided; one for normal running, and a lower one for very soft ground or steep hills. The driving axle is of the differential or live type, and provided with means for locking the compensating gear and rendering it inoperative when necessary, as would he the case if one driving wheel were on hard ground and the other one on soft or greasy ground. A winding drum is fitted, and this may be driven by the engine without, at the same time, driving the vehicle : this result is attained by making the drum free on the axle, but providing means of securely locking it thereto when desired. A flywheel is generally fitted to one end of the crankshaft, and this may be used for driving machinery by means of a belt. The steering gear is of the ordinary traction-engine type, with revolving fore-carriage operated by means of chain or worm and quadrant. Any interesting departure from this general description is dealt with in the separate references to particular tractors.