Wallis and Steevens.
11th April 1907
Page 20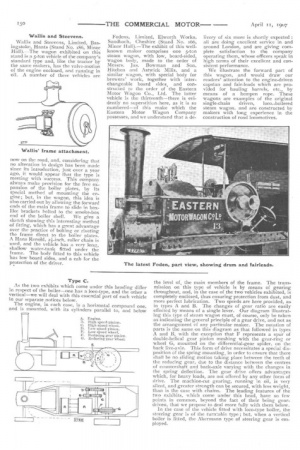 Page 20, 11th April 1907 —
Wallis and Steevens.
Close
Wallis and Steevens, Limited, Basingstoke, Hants (Stand No. 186, Minor Hall).—The wagon exhibited on this stand is a 5-ton vehicle of the company's standard type and, like the tractor by the same makers, has the valve-motion of the engine enclosed, and running in oil. A number of these vehicles are
now on the road, and, considering that no alteration in design has been made since its introduction, just over a year ago, it would .appear that the type is meeting with success. This company always make provision for the free expansion of the boiler plates, by its special method of mounting the engine; but, in the wagon, this idea is also carried out by aliowing the forward ends of the main frame to slide in boxlike brackets bolted to the smoke-box
end of the boiler shell. We give a sketch showing this interesting method of fitting, which has a great advantage over the practice of bolting or riveting the frame direct to the boiler plates. A Hans Renold, 2:A.-inch, roller chain is used, and the vehicle has a very long, shallow water-tank fitted under the frame. The body fitted to this vehicle has low board sides, and a cab for the protection of the driver_
Fodens, Limited, Elworth Works, Sandbach, Cheshire (Stand No. 166, Minor Hall).—The exhibit of this wellknown maker comprises one 5-ton steam wagon, with low, board-sided, wagon body, made to the order of Messrs. Jas. Bowman and Son, Hitchen and Astwick Mills, and a similar wagon, with special body for brewers' work, together with interchangeable board sides, and constructed to the order of the Eastern Motor Wagon Co., Ltd. The latter vehicle is the thirteenth—there is evidently no superstition here, as it is so numbered—of this make which the Eastern Motor Wagon Company possesses, and we understand that a de livery of six more is shortly expected : all are doing excellent service in and around London, and are giving complete satisfaction to the company operating them, whose officers speak in high terms of their excellent and consistent performance.
We illustrate the forward part of this wagon, and would draw our readers' attention to the engine-driven capstan and fair-leads which are provided for hauling barrels, etc., by means of a hempen rope. These wagons are examples of the original single-chain driven, loco.-boilered steam wagon, and are constructed by makers with long experience in the construction of road locomotives.